Published in: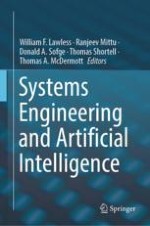 2021 | OriginalPaper | Chapter
1. Introduction to "
Systems Engineering and Artificial Intelligence

" and the Chapters
Abstract
In this introductory chapter, we first review the science behind the two Association for the Advancement of Artificial Intelligence (AAAI) Symposia that we held in 2020 ("AI welcomes Systems Engineering. Towards the science of interdependence for autonomous human-machine teams"). Second, we provide a brief introduction to each of the chapters in this book.