2012 | OriginalPaper | Chapter
Introduction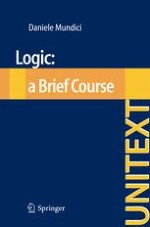 Author: Daniele Mundici
Publisher: Springer Milan
Abstract
Have a look at the following drawing:
The problem
C
is to colour the vertices 1, ..., 5 with one of two available colours, in such a way that vertices of the same edge have different colours. The answer is simple, but think of the same problem, denoted by
C
+
, to colour a complex graph with 1000 vertices, 10000 edges and a palette of 7 colours. The search for efficient methods of solving a problem like
C
+
, so either finding an explicit solution or proving that no solution exists, forms a central challenge for contemporary mathematics.
×