25-05-2016 | Communication | Issue 2/2017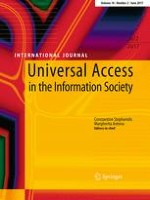 Investigating ICT infrastructure to develop an information society in India
Author:

Kashmiri Lal
Abstract
The information society (IS) can be defined as a society that will witness
creation
,
storage
,
processing
, and
distribution
of information as major source of economic and cultural activity. IS has also been defined in
social
,
economic
,
technological
, and
cultural
domains. This study peruses the
technological
parameter into consideration to look into the role information and communication technology (ICT) infrastructure can play to build and promote IS in India. India's progress on millennium development goals (MDGs) is scrutinized to benchmark with average rates of various economies around the world. Extensive literature survey has been conducted to contextualize IS in India. In three of the important parameters of MDGs, India struggles in the bottom of the benchmarked nations in terms of internet users and telephone lines. However, its performance in mobile density has surpassed low-income, South Asian, and sub-Saharan African countries. India must invest in these technologies to perform better, as UN considers these three parameters on a par with literacy, water, sanitation, etc. A large portion of the population in the country, specially in rural areas, is not able to access ICT infrastructure that if often characterized as poor in quality. There is consistent need from the government to dedicate a larger sum of ICT expenditure on its mega project 'National e-Governance Plan' (NeGP). However, just like an oasis in the desert, India remains one of the most affordable nations to offer prices for fixed lines, mobile telephones, and the internet. In terms of ICT usage, India also attains the distinction of highest uses of mobile telephone (minutes/user per month). These strengths can definitely uplift the sagging morale of the Indian economy to get on the path of contemporary IS.