01-05-2012 | Original Paper | Issue 3/2012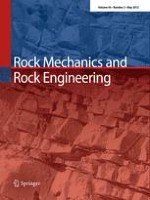 Investigating the Effect of Cyclic Loading on the Indirect Tensile Strength of Rocks
Journal:
Authors:

N. Erarslan, D. J. Williams
Abstract
This paper presents the results of laboratory experiments during the investigation of the stress–strain characteristics of Brisbane tuff disc specimens under diametral compressive cyclic loading. Two different cyclic loading methods were used: namely, sinusoidal cyclic loading and cyclic loading with increasing mean level. The first method applied the
S
–
N
curve approach to the indirect tensile strength (ITS) of rock specimens for the first time in the literature, and the second method investigated the effect of increasing cyclic loading on the ITS of rock specimens. The ITS of Brisbane tuff disc specimens was measured using the Brazilian tensile strength test. The reduction in ITS was found to be 33% with sinusoidal loading tests, whereas increasing cyclic loading caused a maximum reduction of 37%. It is believed that the fracturing under cyclic loading starts at contact points between strong grains and weak matrices, and that contact points at grain boundaries are the regions of stress concentration (i.e., indenters). Transgranular cracks emanate from these regions and intergranular cracks sometimes pass through the contact points. Once cracking begins, there is a steady progression of damage and a general 'loosening' of the rock, which is a precursor to the formation of intergranular cracks.