01-05-2021 | Issue 1/2021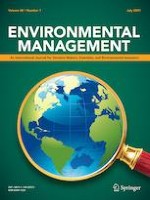 Investigating the Relationship between Sociodemographic Factors and Bird Identification by Landowners Across a Rural-to-Urban Gradient
Journal:
Authors:

Mary S. Fleck, Maude Dinan, Lauren J. Simmons, Todd D. Steury, Christopher A. Lepczyk
Important notes
Supplementary information
Publisher's note
Springer Nature remains neutral with regard to jurisdictional claims in published maps and institutional affiliations.
Abstract
Social, cultural, and economic differences have been shown to influence ecological knowledge. Given the importance of ecological knowledge for appreciation and protection of nature, we sought to investigate the relationship between landowners' sociodemographic attributes and the number of birds listed by landowners on their property across a rural-to-urban gradient. We hypothesized that: (1) age and education would be positively related to the number of birds an individual listed, while gender would be unrelated to the number of birds an individual listed; (2) rural landowners would list a larger number of bird species due to their increased level of exposure to nature and place-based knowledge; and (3) the number of years spent living on a property would positively impact the number of birds an individual listed by increasing the amount of time possible to interact with nature. To test these hypotheses, we conducted a survey of ~1700 landowners (with 59% responding) across a rural-to-urban gradient in southeastern Michigan that asked questions pertaining to age, gender, education, property size, years lived on property, and bird identification. Age, education, and years on property were positively associated with the number of birds listed by landowner. However, sociodemographic factors interacted with the rural-to-urban gradient to determine how such factors influenced landowner listing ability. For example, females listed more birds than males on suburban routes, but not on urban or rural routes. Ultimately, sociodemographic factors were indicators of a person's ability to list bird species on their property.