Published in: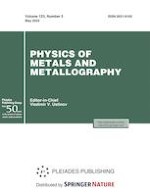 01-05-2022 | ELECTRICAL AND MAGNETIC PROPERTIES
Investigation of Electronic States and Magnetic Domain Structure of La1 –

x

Sm

x

Mn2Si2 (
x

= 0, 0.25) Layered Intermetallic Compounds by Resonant Photoemission Spectroscopy and Magnetic Force Microscopy

Published in: Physics of Metals and Metallography | Issue 5/2022

Login to get access
Abstract
Electronic states on the surface of LaMn2Si2 and La0.75Sm0.25Mn2Si2 intermetallic compounds have been studied by resonant photoemission spectroscopy using synchrotron radiation, and the main regularities in the formation of the electronic structure upon partial substitution of samarium atoms for lanthanum have been found. The dependence of the shape of the spectra of the valence bands on the photon energy near the absorption edges of the internal levels of the components has been studied. The processes of direct and two-stage production of photoelectrons, elastic and inelastic channels of the decay of states with the emission of high-energy electrons due to intra-atomic Coulomb interaction have been studied. The features of the surface of the compounds at room temperature have been studied by atomic force and magnetic force microscopy. The presence of a complex magnetic domain structure in LaMn2Si2 in the case of partial substitution of samarium for lanthanum is also shown.