18-11-2019 | Issue 7/2019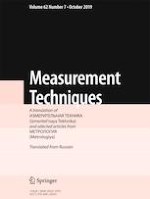 Investigation of Sorption Microsystems as Reference Samples of Volatile Organic Compounds
Journal:
Authors:

I. A. Platonov, I. N. Kolesnichenko, E. A. Novikova, L. V. Pavlova
Important notes
Translated from Izmeritel'naya Tekhnika, No. 7, July, 2019, pp. 62–66.
The technology of obtaining reference samples of volatile organic compounds using sorption microsystems is described. The most effective are 0.147–0.178 mm (80–100 mesh) polymer sorbents fractions, which provide high sorption properties, optimal gas-dynamic characteristics and minimal dead volumes. Stability of the reference samples during storage for 0.5 to 1 year is investigated. On the example of chamomile (Chamomilla recutita (L.)) growing in Samara region (Russia), it is shown that sorption microsystems can be used to identify complex objects and authenticate plant raw materials.