Published in: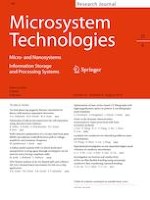 17-10-2018 | Technical Paper
Investigation on fracture and conductivity of flex-on-film flexible bonding using anisotropic conductive film considering repeated bending
Published in: Microsystem Technologies | Issue 8/2019
Log in
Abstract
This study conducts an experimental investigation into the bending behavior and electrical resistance properties of Flex (PI with Cu)-On-Film (ITO–coated PET) packages considering the flexible effects under static bending loads with sequential bending cycles. The FOF packages, consisting of flex (with fine-pitch Cu circuits) and film (ITO–coated PET plastic) are bonded by Anisotropic Conductive Film (ACF). During the ACF bonding process, the deformed conductive particles in the adhesive matrix between the Cu electrodes and the ITO film under the effects of the compression force, and these broken conductive particles will play an electrical conductive role. In the subsequent bending tests (loading &unloading with many cycles), the conductive particles experience a compression or tension stress, which causes a further propagation of the cracks formed in the original packaging process. The results show the measured electrical resistance in the specified conductive channel increases with the bending cycles increasing, and the microscopic observations show that the higher electrical resistance is the result of a smaller overall contact area between the conductive ACF particles and the Cu electrode/ITO film due to fatigue crumbling of the particles.