27-09-2019 | Technical Paper | Issue 4/2020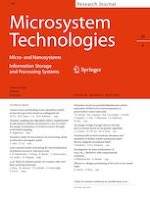 Investigation on noise performance of InAs

x

Sb1−

x

MOSFETs with compositional variations
Journal:
Authors:

Swagata Bhattacherjee, Abhijit Biswas
Important notes
Publisher's Note
Springer Nature remains neutral with regard to jurisdictional claims in published maps and institutional affiliations.
Abstract
Using numerical analysis we investigate the thermal and low frequency noise (LFN) performance of InAs
x
Sb
1−

x
-channel nMOSFETs having various As mole fractions
x
ranging 0.15–0.85 at channel length of 65 nm. The models used in the simulation are calibrated by comparing simulated transfer characteristic curve with experimental characteristic reported elsewhere. The numerically obtained values of drain current
I
D
and transconductance
g
M
are used to compute power spectral density of drain current S
ID
/I
D
2
, noise resistance R
n
and minimum noise figure NF
min
as a function of As composition fraction
x
. The minimum noise figure NF
min
of 1.35 dB is obtained for thermal noise with
x 
= 0.15 at frequency of 5 GHz and gate bias of 1 V. Our investigation reveals that LFN as well as thermal noise can be suppressed by proper selection of As mole fraction in InAs
x
Sb
1−

x
n-channel MOSFETs.