20-11-2019 | Production Process | Issue 1/2020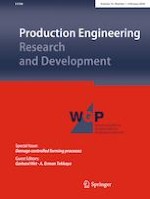 Investigation on the influence of damage on the fatigue strength of hot rolled sheet metal
Journal:
Authors:

Conrad Liebsch, Kerstin Möhring, Johannes Lohmar, Frank Walther, Gerhard Hirt
Important notes
Publisher's Note
Springer Nature remains neutral with regard to jurisdictional claims in published maps and institutional affiliations.
Abstract
Continuous casting leads to the formation of voids, which can be considered as an initial state of damage. During hot rolling these voids shall be closed, reducing this initial damage and avoiding its negative influence on the mechanical properties and performance of the produced material. However, hot rolling also influences the microstructure, which in turn affects the performance e.g. the fatigue strength. So far, little research has been published on the separation of those influencing factors. This paper is a first attempt to separate the influence of damage from the microstructure in hot rolling. Numerical simulation is utilized to study void closure throughout the multi-pass process while the evolution of microstructure and damage is investigated experimentally using numerous characterization methods. Two process routes with a large and a small pass reduction have been investigated and comparable microstructures have been achieved. A continuous damage reduction throughout the rolling process has been observed by means of void distribution and density measurements. The large pass reduction showed a slightly reduced damage and an increased fatigue strength in all considered thicknesses, however this could not be traced back to the damage reduction exclusively.