Published in: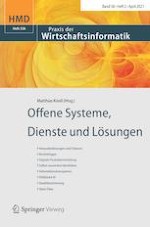 08-07-2020 | Spektrum
IoT Security Best Practices
Vorstellung eines Sicherheits- und Authentifizierungskonzepts bei der Realisierung von (Industrial) Internet of Things (IIoT)-Anwendungen – Eine Fallstudie zur Clientseitigen-Authentifizierung im IoT
Published in: HMD Praxis der Wirtschaftsinformatik | Issue 2/2021
Login to get access
Zusammenfassung
Der Artikel gibt einen Überblick über Best-Practice-Standards zur Authentifizierung von IoT (Internet of Things) Zugängen. Es wird aufgezeigt, dass clientseitige Authentifizierung gegenüber einer herkömmlichen Authentifizierung und Blockchain-basierten Ansätzen das höchste Potential für sichere Prozessautomatisierung bei hoher Interaktionsfrequenz bietet.
Ein neuartiges Konzept des clientseitigen automatisierten Zugangsmanagements auf Basis von TLS (transport layer security), welches sich im Agriculture Segment seit über einem Jahr bewährt hat, wird vorgestellt. Gegenüber derzeitig eingesetzten Authentifizierungsverfahren bietet es den Vorteil höherer Sicherheit bei gleichzeitig automatisierter Anmeldung jeglicher Endgeräte auf dem IoT-Server. Aufgrund dieser Potentiale eignet sich der dargestellte Authentifizierungsstandard zukünftig als allgemeines branchenübergreifendes Zugangssystem für IoT-Anwendungen.