Published in: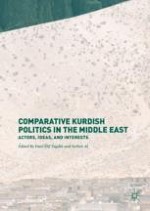 2018 | OriginalPaper | Chapter
1. Iraqi Kurdistan's Statehood Aspirations and Non-Kurdish Actors: The Case of the Turkomans
Abstract
The concept of state-building has acquired political, economic, and social dimensions, all of which are required to explain the state-building patterns in the Middle East. This chapter will examine some of the key theories of state-building and how certain theories have been applied to the Middle East and Iraq. I will then consider how these thematic areas relate to the core focus of the analysis: the state-building efforts in Iraqi Kurdistan. I will concentrate on the sociopolitical factors and, in particular, the role of the Turkoman people in this process. The northern part of Iraq, which is known as Iraqi Kurdistan, is a region rich in ethnoreligious diversity. However, the role of the Kurds in state-building, for example, has been well researched. The Turkomans are the third-largest ethnic group in Iraq; yet, we know relatively little about their role in constructing a successful Iraqi Kurdistan. This chapter aims to take a closer look at this group as their participation is vital in a number of different areas. As the Turkomans are politically very active, we are interested in their attitudes and role in Kurdish state-building. The chapter will examine demographic and related political questions, religious, cultural and ethnic matters, the role of language, and the vital connection to Turkey. The central argument presented here is that while there are a number of complex problems for Turkoman integration (in addition to current issues related to ISIS, economic recession, and the refugee crisis), in many of these areas, there are also several reasons for optimism within KRG that has often shown both tolerance and respect for the Turkoman population.