08-06-2021 | Forum Article: A Tale of Two Republics: Ireland and the Spanish Civil War | Issue 2/2021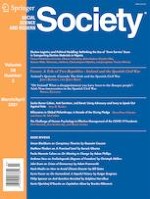 Ireland's Quixotic
Cruzada

: the Irish and the Spanish Civil War
Journal:
Authors:

John Rodden, John Rossi
Important notes
Publisher's Note
Springer Nature remains neutral with regard to jurisdictional claims in published maps and institutional affiliations.
Abstract
The Spanish Civil War has attracted historical interest because of its role as a precursor to World War II. The Irish role in that conflict is a revealing commentary on political developments in Ireland in the 1930s. General Eoin O'Duffy, a hero of the Irish War of Independence, attempted to use Irish involvement in the Spanish conflict as a way of enhancing his reputation. He took 700 Blueshirts to Spain to fight on the side of the General Francisco Franco's Nationalist forces where their performance was a disastrous failure. O'Duffy's career and the memories of the Blue Shirts involvement in Spain left his reputation in tatters.