Published in: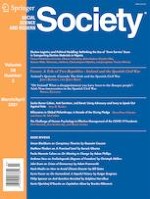 08-06-2021 | Forum Article: A Tale of Two Republics: Ireland and the Spanish Civil War
Ireland's Quixotic
Cruzada

: the Irish and the Spanish Civil War

Published in: Society | Issue 2/2021

Login to get access
Abstract
The Spanish Civil War has attracted historical interest because of its role as a precursor to World War II. The Irish role in that conflict is a revealing commentary on political developments in Ireland in the 1930s. General Eoin O'Duffy, a hero of the Irish War of Independence, attempted to use Irish involvement in the Spanish conflict as a way of enhancing his reputation. He took 700 Blueshirts to Spain to fight on the side of the General Francisco Franco's Nationalist forces where their performance was a disastrous failure. O'Duffy's career and the memories of the Blue Shirts involvement in Spain left his reputation in tatters.