Published in: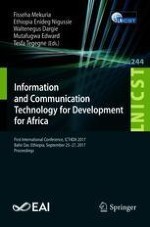 2018 | OriginalPaper | Chapter
Is Addis Ababa Wi-Fi Ready?
Abstract
As we are heading towards future ubiquitous networks, heterogeneity is one key aspect we need to deal with. Interworking between Cellular and WLAN holds a major part in these future networks. Among other potential benefits it gives the opportunity to offload traffic from the former to the latter. To successfully accomplish that, we need to thoroughly study the availability, capacity and performance of both networks. To quantify the possibility of mobile traffic offloading, this work-in-progress presents the availability, capacity and performance investigation of Wi-Fi Access Points in the city of Addis Ababa. Analysis of the scanned data, collected by travelling through the highly populated business areas of the city, reveals the potential of existing Wi-Fi coverage and capability for many application domains.