01-10-2014 | Essay | Issue 2/2014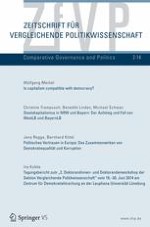 Is capitalism compatible with democracy?
Author:

Prof. Dr. Wolfgang Merkel
Abstract
Capitalism and democracy follow different logics: unequally distributed property rights on the one hand, equal civic and political rights on the other; profit-oriented trade within capitalism in contrast to the search for the common good within democracy; debate, compromise and majority decision-making within democratic politics versus hierarchical decision-making by managers and capital owners. Capitalism is not democratic, democracy not capitalist.
During the first postwar decades, tensions between the two were moderated through the socio-political embedding of capitalism by an interventionist tax and welfare state. Yet, the financialization of capitalism since the 1980s has broken the precarious capitalist-democratic compromise. Socioeconomic inequality has risen continuously and has transformed directly into political inequality. The lower third of developed societies has retreated silently from political participation; thus its preferences are less represented in parliament and government. Deregulated and globalized markets have seriously inhibited the ability of democratic governments to govern. If these challenges are not met with democratic and economic reforms, democracy may slowly transform into an oligarchy, formally legitimized by general elections. It is not the crisis of capitalism that challenges democracy, but its neoliberal triumph.