10-03-2018 | Original Paper | Issue 9/2018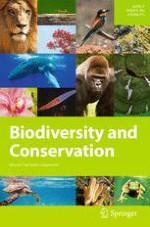 Is the raccoon (
Procyon lotor

) out of control in Europe?
Journal:
Author:

Iván Salgado
Important notes
Communicated by David Hawksworth.
Electronic supplementary material
This article belongs to the Topical Collection: Invasive species.
Abstract
The northern raccoon (
Procyon lotor
) is an invasive species in Europe and poses a serious threat to indigenous biodiversity and human health. Raccoons can also cause important economic losses. Despite the risks, no comprehensive report on the raccoon status in Europe is available. In this article, I estimate the raccoon invaded range and population trends and evaluate the impacts on native ecosystems and wildlife to (1) determine the raccoon status and discuss the invasion process on a continental scale, (2) identify the threats, and (3) propose guidelines for designing management strategies for raccoon populations. Raccoons have been introduced in Europe since the late 1920s but raccoon population growth and range expansion rates have been increasing since 1970s after a lag period. In addition, recent introductions through the pet trade have resulted in the establishment of new feral raccoon populations. Therefore, the raccoon spatial distribution is a result of multiple introductions and range expansion from the primary raccoon populations in central and eastern Europe over the last 40 years. First individuals escaped from fur farms or were released for hunting. Nowadays, the pet trade is the major introduction pathway. Raccoons have adapted to different environments, even urban and residential areas. In central Europe, the raccoon population has increased by over 300% and grows at exponential rates since the 1990s. The raccoon is out of control in Europe because of increasing population trends, range expansion and no efficient management strategy. However, no impacts have still been reported through an evidence-based approach. There is a pressing need for a long-term management strategy of raccoon populations in Europe.