13-06-2018 | Issue 8/2019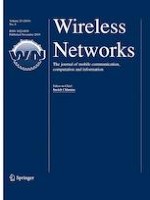 Iterative hybrid precoder and combiner design for mmWave MIMO-OFDM systems
Journal:
Authors:

Ming Li, Wenfei Liu, Xiaowen Tian, Zihuan Wang, Qian Liu
Important notes
This paper is supported in part by the Natural Science Foundation of Liaoning Province (Grant No. 2015020043) and in part Fundamental Research Funds for the Central Universities (Grant No. DUT 15RC(3)121).
Abstract
This paper investigates the problem of hybrid precoder and combiner design for multiple-input multiple-output (MIMO) orthogonal frequency division multiplexing (OFDM) systems operating in millimeter-wave (mmWave) bands. We propose a novel iterative scheme to design the codebook-based analog precoder and combiner in forward and reverse channels. During each iteration, we apply compressive sensing technology to efficiently estimate the equivalent MIMO-OFDM mmWave channel. Then, based on the effective channel, we designed the analog precoder and combiner to alleviate the interference between different data streams as well as maximize the spectral efficiency. The digital precoder and combiner are finally obtained based on the effective baseband channel to further enhance the spectral efficiency. Simulation results demonstrate that the proposed iterative hybrid precoder and combiner algorithm has significant performance advantages.