03-06-2021 | Issue 4/2021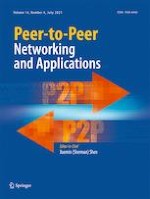 Joint offloading and energy optimization for wireless powered mobile edge computing under nonlinear EH Model
Authors:

Hua Shi, Ronghua Luo, Guan Gui
Important notes
This work was supported in part by the Natural Science Foundation of the Jiangsu Higher Education Institutions of China (No.19KJB510030) and in part by the open research fund of National Mobile Communications Research Laboratory, Southeast University (No. 2020D18).
Publisher's note
Springer Nature remains neutral with regard to jurisdictional claims in published maps and institutional affiliations.
Abstract
This paper investigates the wireless powered mobile edge computing (WP-MEC) system, which consists of an energy transmitter (ET) with multiple antennas, an MEC server and multi wireless devices (WDs) with single antenna. The ET transfers energy to WDs via energy beamforming. Each WD harvests energy to power its operations, i.e., computing tasks locally and offloading partial tasks to the MEC server. A practical nonlinear energy harvesting (EH) model is adopted to describe the relationship between energy transmitting and harvesting. In the context of the nonlinear EH model, energy constraints between harvesting and comsumption at WDs is analyzed and an optimization problem to maximize the weighted sum computation rate of the system is formulated. The transmitting power allocation among different energy beams at the ET and computation offloading at WDs are jointly optimized to make full use of energy and computing resources. Since the nonlinear EH model is nonconvex, it is hard to solve the formulated problem. By exploiting the successive convex approximation method, an iterative optimizing scheme called JOEO (
J
oint
O
ffloading and
E
nergy
O
ptimization) is proposed. Simulation results in the final part indicate the convergence and superiority of the JOEO scheme over other benchmark schemes under different system parameters.