20-06-2018 | Original Article | Issue 7/2019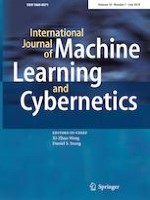 Joint sparse representation and locality preserving projection for feature extraction
Authors:

Wei Zhang, Peipei Kang, Xiaozhao Fang, Luyao Teng, Na Han
Important notes
This work is supported in part by the National Natural Science Foundation of China under Grants 61702110, 61603100 and 61772141, by the Guangdong Provincial Natural Science Foundation under Grant 17ZK0422, by Guangdong Higher Education letter 2015[133], 2014[97], and by the Guangzhou Science and Technology Project under Grants 201508010067, 201604020145, 2016201604030034, 201604046017 and 201804010347.
Publisher's Note
Springer Nature remains neutral with regard to jurisdictional claims in published maps and institutional affiliations.
Abstract
Traditional graph-based feature extraction methods use two separated procedures, i.e., graph learning and projection learning to perform feature extraction. They make the feature extraction result highly dependent on the quality of the initial fixed graph, while the graph may not be the optimal one for feature extraction. In this paper, we propose a novel unsupervised feature extraction method, i.e., joint sparse representation and locality preserving projection (JSRLPP), in which the graph construction and feature extraction are simultaneously carried out. Specifically, we adaptively learn the similarity matrix by sparse representation, and at the same time, learn the projection matrix by preserving local structure. Compared with traditional feature extraction methods, our approach unifies graph learning and projection learning to a common framework, thus learns a more suitable graph for feature extraction. Experiments on several public image data sets demonstrate the effectiveness of our proposed algorithm.