29-10-2019 | Original Empirical Research | Issue 4/2020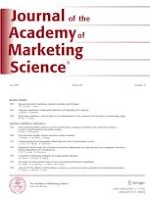 Just print it! The effects of self-printing a product on consumers' product evaluations and perceived ownership
Authors:

Annika Wiecek, Daniel Wentzel, Aras Erkin
Important notes
Gergana Nenkov served as Area Editor for this article.
Electronic supplementary material
Publisher's note
Springer Nature remains neutral with regard to jurisdictional claims in published maps and institutional affiliations.
Abstract
Recent years have witnessed the diffusion of 3D printing technologies that allow consumers to create products with the push of a button. While these technologies may change how value is created in the marketplace, there is little research on 3D printing from a consumer perspective. Against this background, this research conceptualizes 3D printing as a form of co-creation and presents four studies aimed at understanding how consumers respond to products they have printed themselves. Study 1 shows that self-printing a product positively affects product evaluations by increasing perceived ownership. Study 2 finds that this effect occurs even when people are not able to observe the printing process. Study 3 shows that the positive effect of self-printing is moderated by the affective quality of the products being printed. Specifically, while self-printing enhances the evaluations of hedonic products, it has no effect on the evaluations of utilitarian products. Finally, Study 4 identifies a strategy that may offset the disadvantage that utilitarian products face in a 3D printing context, that is, ingredient branding.