01-06-2019 | Hauptbeiträge | Issue 2/2019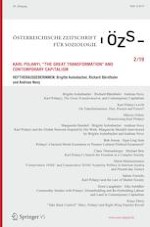 Karl Polanyi's Search for Freedom in a Complex Society
Authors:

Claus Thomasberger, Michael Brie
Abstract
This article reads Polanyi's work as a lifelong search that focuses on the possibilities of freedom in a complex society. The implications for Polanyi's thinking are examined in more detail in two thematic areas: The question of the socialist transformation of society, which was at the heart of Polanyi's contributions to the debates in Red Vienna with Ludwig Mises and the Austro-Marxists; the idea of the double movement, which is crucial to Polanyi's analysis of the end of European nineteenth-century civilization.
In contrast to most of the existing interpretations, the article is not limited to an examination of Polanyi's best-known work,
The Great Transformation
, but also includes the writings that have become accessible in recent years in the discussion.