01-04-2012 | Issue 2/2012 Open Access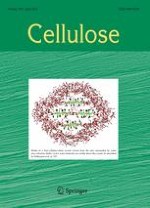 Kinetics of enzymatic deacetylation of chitosan
Journal:
Author:

Malgorzata M. Jaworska
Abstract
The current paper reports on an investigation of the kinetics of chitosan deacetylation by chitin deacetylase isolated from
Absidia orchidis
vel
coerulea
. The reaction rate was correlated with the concentration of GlcNHAc units of the polymer. It is shown that the process follows the Michaelis–Menten mechanism. Modification of the Michaelis–Menten equation by introducing the activity of the enzyme instead of its concentration was tested and found to give a better approximation to the experimental data than the original Michaelis–Menten model. Parameters for both the original and the modified Michaelis–Menten equations are also proposed.