2009 | OriginalPaper | Chapter
Knowledge, Time, and Logical Omniscience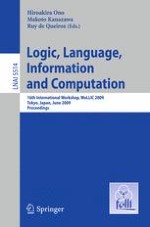 Read first chapter
Author: Ren-June Wang
Publisher: Springer Berlin Heidelberg
Knowledge's acquisition happens
in
time. However, this feature is not reflected in the standard epistemic logics, e.g.
S4
with its possible world semantics suggested by Hintikka in [1], and hence their applications are limited. In this paper we adapt these normal modal logics to increase their expressive power such that not only is
what
is known modeled but also
when
it is known is recorded. We supplement each world with an awareness function which is an augmentation of Fagin-Halpern's to keep track of the time when each formula is to be derived. This provides a new response to the logical omniscience problem. Our work originates from the tradition of study of
Justification Logic
, also known as
Logic of Proofs
,
LP
, introduced by Artemov ([2],[3],[4]). We will give the axiom systems of the models built here, accompanied with soundness and completeness results.