01-08-2009 | Aufsatz | Issue 4/2009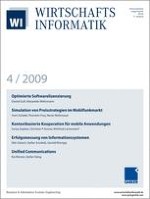 Kontextbasierte Kooperation für mobile Geschäftsanwendungen
Dezentrale Ausführung und Management von mobilen Prozessen
Journal:
Authors:

Dipl.-Inf. Sonja Zaplata, Dr. Christian P. Kunze, Prof. Dr. Winfried Lamersdorf
Important notes
Angenommen nach einer Überarbeitung durch Prof. Dr. Buhl.
This article is also available in English via http://www.springerlink.com and http://www.bise-journal.org: Zaplata S, Kunze CP, Lamersdorf W (2009) Context-based Cooperation in Mobile Business Environments – Managing the Distributed Execution of Mobile Processes. Bus. Inf. Syst. Eng. doi: 10.1007/s12599-009-0060-5.
Zusammenfassung
Das Potenzial direkt nutzbarer lokaler Ressourcen ist für die Ausführung komplexer mobiler Anwendungsaufgaben oft nicht ausreichend. Basierend auf der kontextbasierten Kooperation ermöglichen daher so genannte mobile Prozesse, die Grenzen einzelner lokaler Systeme und somit die Restriktionen mobiler Geräte und ihrer speziellen Dienste zu überwinden. Durch die hierdurch erreichbare Kombination mobiler und stationärer Ressourcen kann so auch die zuvor nur eingeschränkt mögliche Ausführung individueller dynamischer und spontaner Aufgaben in mobilen Umgebungen verwirklicht werden. Dieser Beitrag stellt einen Ansatz zur Unterstützung mobiler Geschäftsanwendungen durch eine Infrastruktur zur kontextbasierten Ausführung mobiler Prozesse vor. Zudem werden wichtige Anforderungen für den Einsatz im Geschäftsumfeld identifiziert und entsprechende Systemerweiterungen zum Management der resultierenden Anwendungen diskutiert.