17-02-2020 | Original Paper | Issue 4/2020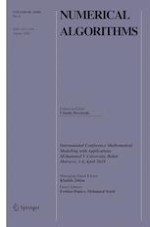 Krylov subspace projection method for Sylvester tensor equation with low rank right-hand side
Journal:
Authors:

A. H. Bentbib, S. El-Halouy, El M. Sadek
Important notes
Publisher's note
Springer Nature remains neutral with regard to jurisdictional claims in published maps and institutional affiliations.
Abstract
Motivated by the effectiveness of Krylov projection methods and the CP decomposition of tensors, which is a low rank decomposition, we propose Arnoldi-based methods (block and global) to solve Sylvester tensor equation with low rank right-hand sides. We apply a standard Krylov subspace method to each coefficient matrix, in order to reduce the main problem to a projected Sylvester tensor equation, which can be solved by a global iterative scheme. We show how to extract approximate solutions via matrix Krylov subspaces basis. Several theoretical results such as expressions of residual and its norm are presented. To show the performance of the proposed approaches, some numerical experiments are given.