08-02-2021 | Issue 4/2021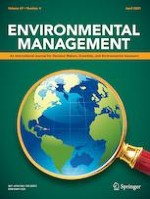 Land Prioritization: An Approach to the Effective Environmental Planning of Hydrographic Basins
Journal:
Author:

Fernando Ravanini Gardon
Important notes
Publisher's note
Springer Nature remains neutral with regard to jurisdictional claims in published maps and institutional affiliations.
Abstract
Hydrographic basins are the fundamental unit for the effective territorial planning. However, areas of higher and lesser susceptibility to degrading processes can occur in the same region, where different actions are required to preserve natural resources, as soil and water. In this context, this study aimed to propose a prioritization model to guide the territorial management in hydrographic basins. The study was conducted in the Tarumã River basin, embedded in the southwest region of the São Paulo State, Brazil. First, the basin was compartmentalized into planning units, based on the delimitation and grouping of small watersheds. In each unit, seven morphometric parameters were calculated. The relationships among the parameters were evaluated by principal component analysis, from which the parameters were weighted. It resulted in an index expressing the environmental fragility of the planning units. Among the planning units, 20% present very-high priority, only 5% very-low priority, and 75% low, moderate, and high priority. Units of higher priority are commonly at the basins' headwaters, where linear channels and steeper slopes are concentrated. Lower priority units present low relief and hydrography conditions that do not favor high-intensity erosive processes. The proposed method is effective in identifying regions of high susceptibility to degradation according to morphometric parameters, which should be prioritized on the basins' territorial management. Since these parameters can be easily calculated, it can be presumed that the results could assist the environmental planning and the optimization of natural resources management within different hydrographic basins.