01-08-2020 | Original Article | Issue 15/2020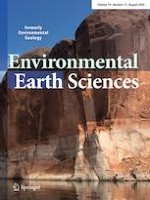 Lateral distribution of potential toxic elements from lead–zinc mine sites within Enyigba, Southeastern Nigeria
Journal:
Authors:

Benedicta Ozobialu, Ogbonnaya Igwe, Chukwuebuka Emeh
Important notes
Publisher's Note
Springer Nature remains neutral with regard to jurisdictional claims in published maps and institutional affiliations.
Abstract
Artisanal mining activities in Enyigba community and its environs have become a major environmental problem, which exposes the water, soil, and vegetation within the environment to potential toxic elements (PTEs). However, the lateral extent that the PTEs have spread within the environment has not been ascertained. It is important to determine the lateral extent of the PTEs within the environment to establish safe zones for drinking water usage and for crop cultivation. For this reason, about nine samples each for soil, sediment, vegetation, surface and groundwater were collected within and beyond the mine sites catchment area. The physicochemical properties of these samples were determined following standard procedures, whereas the concentration of PTEs such as cadmium, arsenic, zinc, and lead in them were determined using atomic absorption spectroscopy method. Statistical analysis, biogeochemical analysis, and geospatial information system (GIS) analytical tools were employed to interpret the field and laboratory results. The results revealed that proximity to mine site contributed significantly to the concentration level of PTEs within the environment. The concentration level of the PTEs was higher in water, soil, sediment, and vegetation samples that were collected close to the mine sites, which gradually reduces farther away from the potential pollutant source points. The environmental mobility index and soil–plant bioconcentration factor revealed that cadmium, arsenic, and zinc are more mobile and bioavailable than lead, thus their toxicity within the study area environment are more likely than that of lead.