Published in: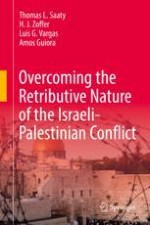 2022 | OriginalPaper | Chapter
1. Laying the Groundwork
Abstract
This book introduces a process to address the Israeli–Palestinian conflict. It does so in two ways that are different from past efforts. The first is by formally structuring the conflict, and the second is the way discussions are conducted and conclusions drawn. The effort is to create an objective, rather than subjective, model for resolving the conflict. As aspirational as that sounds, if not improbable as it may be, we believe that we have developed a workable model that is applicable to the conflict. We are confident because we have seen it in action; the model enables decision makers to engage in negotiations dramatically different from the traditional "zero-sum game" approach that has largely defined Israeli–Palestinian negotiations.