01-09-2020 | Original Article | Issue 18/2020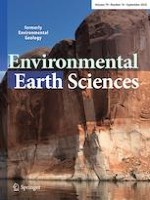 Lead adsorption in soils and the effect of soil properties: case study from Turkey
Journal:
Authors:

Mehmet Keçeci, Sadık Usta, Veli Uygur
Important notes
Publisher's Note
Springer Nature remains neutral with regard to jurisdictional claims in published maps and institutional affiliations.
Abstract
Lead (Pb) concentration of agricultural soils arises from either many industrial or agricultural pollution sources, and it is of most harmful heavy metals. Its reactivity and mobility in agricultural soils have significant environmental and ecosystem health consequences. Therefore, Pb adsorption processes of 28 surface soils with differing physico-chemical properties and mineralogy were investigated by batch sorption technique in this lab-based study. Scope of 1.00 g soils was reacted with 20 mL of 10
–4
–10
–2
molar Pb concentration prepared in 0.01 molar Ca(NO
3
)
2
solution at 25 °C for 24 h. The sorption data were tested against Langmuir and Freundlich models by regression analysis. Results indicated both Langmuir and Freundlich models successively described the Pb adsorption onto the soils. The maximum adsorptions of the soils were ranged from 21,268 to 46,301 mg kg
−1
. The Freundlich
n
parameters varied between 0.235 and 0.564 mL g
−1
and Kf 459–154,525 mg kg
−1
. Correlation and principal component analyses revealed that Pb adsorption by the experimental soils was strongly related to pH, clay, and calcium carbonate equivalent, and soluble salt concentrations. Therefore, it can be concluded that acidic pH and coarse texture can make soils susceptible to increased level of Pb. In contrast, clay texture and alkaline pH increase the sorption capacity while decreasing the mobility of Pb.