2009 | OriginalPaper | Chapter
Learning by Questions and Answers: From Belief-Revision Cycles to Doxastic Fixed Points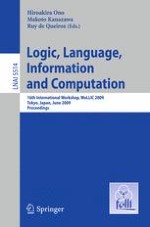 Read first chapter
Authors: Alexandru Baltag, Sonja Smets
Publisher: Springer Berlin Heidelberg
We investigate the
long-term behavior of iterated belief revision with higher-level doxastic information
. While the classical literature on iterated belief revision [13, 11] deals only with
propositional
information, we are interested in
learning
(by an
introspective
agent, of some
partial
information about the) answers to various questions
Q
1
,
Q
2
, ...,
Q
n
, ... that
may refer to the agent's own beliefs
(or even to her
belief-revision plans
). Here, "learning" can be taken either in the "hard" sense (of becoming absolutely certain of the answer) or in the "soft" sense (accepting some answers as more plausible than others). If the questions are
binary
("is
φ
true or not?"), the agent "learns" a sequence of
true
doxastic sentences
φ
1
, ...,
φ
n
, .... "Investigating the long-term behavior" of this process means that we are interested in whether or not the agent's beliefs, her "knowledge" and her conditional beliefs stabilize eventually or keep changing forever.