09-03-2020 | Research Paper | Issue 2/2021 Open Access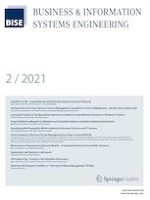 Leaving the Shadow: A Configurational Approach to Explain Post-identification Outcomes of Shadow IT Systems
Authors:

Daniel Fürstenau, Hannes Rothe, Matthias Sandner
Important notes
Electronic supplementary material
Accepted after three revisions by Jens Dibbern.
1

Introduction

However, the previous literature on shadow IT has largely taken the hidden character of shadow IT systems for granted without sufficiently acknowledging that shadow IT systems may start in a kind of "under-the-radar" mode while later on a shadow IT system can become known to more and more stakeholders which provides opportunities to reorganize the governance of the system. Furthermore, the literature has commonly implied that shadow IT systems are always to be brought to IT unit governance or be replaced by a new IT-governed system after identification and has ignored the possibility of alternative outcomes. Moreover, the literature lacks insight into the different paths that shadow IT systems can take after they have been identified and the underlying reasons for the differences.
2

Research Framework

To develop our research framework, we first review different outcomes after shadow IT systems are identified. Based thereupon, we introduce a configurational perspective as a framework to capture which combinations of contextual conditions and mechanisms lead to these outcomes. Such a configurational approach is appropriate as multiple configurations of contextual conditions and mechanisms may contingently cause an outcome. Then, we tap into the different contextual conditions and mechanisms in detail. Finally, we summarize key outcomes, contextual conditions, and mechanisms of our study.
3

Methods
3.2

Case Database, Coding, and Configurational Analysis

Our case analysis consisted of multiple rounds and iterations. In a first round of summarizing and coding, we created a detailed case tableau in which we described every identified shadow IT system using one column. As some interviewees provided rich accounts of multiple shadow IT systems, while others did not provide sufficient information on specific systems, the number of cases does not match the number of interviewees.

2

Our case tableau included data such as a short description (ca. 50–100 words; see Appendix 1, available online via

http://​link.​springer.​com

), background facts, reasons for the origination of the system, growth patterns, incidents (challenges), observed outcomes, and other context factors. In this first round, a coding of incidents took place by author 1 and 3 using a code set abductively derived from the literature and emerging empirical insights. This means that inductively emerging codes in the empirical material where tied back to theoretical concepts from the literature, which were then reapplied to the empirical material in an iterative fashion. The coding followed a "consensus principle" to guarantee agreement among coders (Harry et al.

2005

, p. 6).

Based thereupon, this paper uses a

configurational perspective

(cf. El Sawy et al.

2010

; Henfridsson and Bygstad

2013

) to elucidate outcomes of shadow IT system identification and underlying reasons. As applied here, our configurational analysis distinguishes explanatory factors into mechanisms and contextual conditions. We aggregated previously derived codes for incidents into two deficiency mechanisms (social and technical) and recoded the cases for the presence or absence of the theorized contextual conditions. A table was prepared that helped in comparing similarities and differences across cases (see Appendix 2), which was further condensed and abstracted from to derive the results presented in the next sections.
4

Configurational Analysis

Our configurational approach identified six configurations (1–6) that are associated with either of the four possible post-identification outcomes of phase-out, replacement, continuing as IT-managed system, and continuing as business-managed system. Figure

2

displays the results.
×
4.1

Phase-Out

We refer to a

phase

-

out

as a situation in which

an identified shadow IT system was discontinued after its identification without putting a new system in place

. Three systems in our sample matched the outcome combination of phase-out, associated with one combination of conditions.

Configuration 1: Phasing-Out the Insignificant

There was one coherent context-mechanism-outcome configuration for phase-out (3 cases), as well as one configuration that was dropped because it had only limited support in our data (1 case). For all cases, social and technical deficiencies were actualized. At the same time, the contextual conditions were identical. Phase-out occurred in a context in which the system was small in scope, where a distrustful relationship existed, relaxed IT policies were in place, and the task was not particularly relevant to the organization. The unconfirmed configuration differed in the contextual conditions with strict IT policies in place.

One example was a board computer system in a recycling firm (S

1

). The system supported the routing of trucks using GPS data. It was introduced in one of the firm's main subsidiaries. Neither was a central system available nor had the IT department the resources and showed the will to develop a new system. The subsidiary hired a consultant who in turn was affiliated with a software development company. However, various technical and social deficits came to light. The technical platform (Windows CE) on which the system relied had limited capacities and was quickly outdated (

technical deficiencies actualized

). In addition, the consultant had set an initial price that was too low, which later turned out to be untenable. The contracted software development company went bankrupt and the system could not be implemented as planned (

social deficiencies actualized

). Therefore, it was mounting technical and social deficiencies that triggered discontinuance. This happened in a context characterized by a distrustful relationship between IT and the local subsidiary (

trust not actualized

). The IT unit considered only costs as important and was not responsive. In consequence, the local subsidiaries did not see them as a trustworthy business partner. Moreover, the IT unit had not set strict policies for preventing the external procurement (

relaxed IT policies

). When the IT department was later involved, it was too late and the system was already integrated into the trucks. A new system was not introduced at this stage because the task was not considered relevant enough (

task relevance not actualized

). Moreover, the system's small size in relation to a large-scale ERP project on the horizon (

small scope

) contributed to the decision to postpone investments into a new system until the new ERP was rolled out.

The other examples confirmed that significant risk combined with a non-critical task explain why some shadow IT systems are discontinued without (immediate) replacement.
4.2

Replacement

By replacement, we refer to the outcome of a discontinued shadow IT system post-identification with a new system replacing it. For 11 systems in our sample, replacement was the observed outcome. We found two configurations explaining this outcome combination: one configuration marked by distrust (5 cases) and another by business-IT trust (4 cases), as well as two more configurations that were dropped as each had only limited support (1 case each). The unconfirmed configurations differed in scope because they were large, as well as social deficiencies that could not be observed in one case.

Configuration 2: Distrustful Replacement

Similar to the phase-out, we observed replacement to occur in situations in which a small system faced social and technical deficiencies in a context that lacks trust between business and IT.

One example is an

underwriting system

in a reinsurance company (S

23

). The system supported sales employees in closing reinsurance contracts, especially in the process of calculating damage ratios. When the company migrated to another Excel version, the system was replaced by a new system as part of a migration project. From a standpoint of technical deficiencies, especially performance issues and self-developed interfaces to a data warehouse/BI system turned out to be problematic (

technological deficiencies actualized

). At the same time, the system relied heavily on knowledge from externally contracted consultants, creating a critical dependency (

social deficiencies actualized

). Tensions between IT and business units revealed a lack of trust in the abilities of the IT unit. The IT unit was perceived as not being able to fulfil the units' demands in a satisfactory manner and the business unit turned to external consultants. This happened in a setting in which IT policies were not enacted (

relaxed IT policies

). The system's small scope made replacement for the necessary task feasible (

small scope

).

Other cases showed that a subversive business unit had procured a system that later proved unsustainable due to its social and technical deficiencies. Thus, the identification of the system presented an event that made the replacement of the system by a central one more likely. The identification led to a "hostile takeover" after which a distrustful relationship remained, if it was not further enforced.

Configuration 3: Trustful Replacement

Another mechanism-context-outcome combination existed for replacement in which business-IT trust was present. A case example was an

IT management database

in an IT service management firm (S

5

). The system, programmed by a hands-on IT person, helped to automate IT portfolio planning using a self-developed Access database. The system was discontinued due to problems arising from the inextensible, chaotic data structure and the single-person dependency, which contributed to serious planning failures or almost-failures using unreliable data from the system (

social and technological deficiencies actualized

). However, the decision to replace the shadow IT system by a new system was supported by the fact that the creator of the system was not demonized but involved in the implementation of a new system (

business

-

IT trust actualized

). Thus, the system creator could take ownership of the new system and was consequently willing to contribute his domain-specific knowledge.

Other cases confirmed that social and technical deficiencies contributed jointly to the decision to not continue the system, but that trust, and the involvement of main shadow IT owners, helped in creating a new system.
4.3

Continuing as IT-Managed System

By

continuing as IT

-

managed system

, we refer to a situation in which the responsibility for a shadow IT system is transferred to an IT unit after identification.

Configuration 4: Renewal in IT Mode

This outcome was brought about by one context-mechanism-outcome combination (3 cases). The confirmed confi-guration was characterized by the absence of deficiency mechanisms and a context which was characterized by a large scope, a relevant task, strict IT policies and a distrustful business-IT relationship. A further configuration, differing in the presence of technical deficiencies, was dropped due to limited support in our data (1 case).

One example for renewal in IT mode is a market data management system in a mid-sized bank (S

6

). The system automated the delivery of external market data to internal business units and thereby helped to be more competitive. After the system was identified in the context of a reorganization, it was decided to keep the system and to transfer the responsibility to the IT unit (

outcome: IT

-

managed system

). The absence of social and technical deficiencies – enabled by the "good performance" (Project manager, P

9

) (

social and technological deficiencies not actualized

) of the project team who implemented the system – contributed to the decision to continue the system. The necessity of the system for the organization, indicated by its large user base (

large scope

), contributed to the decision to continue the system. The setting in which this happened was generally

distrustful

with a great distance between business and IT units (

business

-

IT trust not actualized

). This means that no close exchange took place between business and IT. Due to general risk considerations and a restricted policy of recentralization of decentralized systems (

strict IT policies

), it was decided to transfer the system to IT governance.

The other examples confirmed that a large scope contributed strongly to continuing a system in an IT-managed mode. This was because the systems had already obtained a critical status for the organization. Also, strict IT policies presented a fertile ground for continuing a system in an IT-managed way. Such policies favored choosing an IT relaunch over business continuance. Finally, it was the absence of major social and technological deficiencies which let IT units consider an IT relaunch as a viable option.
4.4

Continued as Business-Managed System

We refer to

continuing as business

-

managed system

as a situation in which a shadow IT system is continued and the developing business unit keeps the control after the system's identification. The outcome was associated with two configurations, which differed only in the extent to which the continued system had a

large scope

(2 cases) or a

small scope

(5 cases). One configuration was dropped since it had only limited support in the data (1 case). The dropped configuration differed in the presence of observable technical deficiencies. Across confi-gurations, a powerful business unit maintained control post-identification against a relatively weak IT.

Configuration 5: Continuing as Large Business

-

Managed System

One example for

continuing a large business

-

managed system

was a customer management system in a bank (S

14

). The system stored marketing data "wickedly" (IT consultant, P

18

). After the system was identified, it was continued and the business unit kept control over the system, although it was registered in the application portfolio management (

outcome: continuing as business

-

managed system

). The system was important for the business unit (

task relevance actualized

) and it worked as intended (

social and technological deficiencies not actualized)

. The system served the entire marketing unit, and several interfaces to other systems existed (

large scope

). Although the IT unit wanted to gain more control, there were limited information flows and the business unit did not want to make its requirements transparent (

business

-

IT trust not actualized

). The business unit blocked a change in governance and continued to develop the system with an external consultant. According to IT consultant P

18

, the company's "relatively timid" IT procurement policies (

relaxed IT policies

) allowed business units to contract external IT service providers relatively freely.

Configuration 6: Continuing as Small Business

-

Managed System

One example for this configuration was a disaster management simulation in a reinsurance firm (S

24

). After the system was identified, it was continued in the business unit while being "on the radar" of the IT unit (

outcome: continuing a business

-

managed system

). The conditions under which the system evolved proved important for the chosen governance. Since the IT unit was relatively weak and lacked resources, the unit could not develop the necessary knowledge and capabilities to maintain the system. This inability was interpreted by the business unit as lacking ability and is indicative for a distrustful relationship (

business

-

IT trust not actualized

). Furthermore, the IT policies of the company did not force the system to be centralized (

relaxed IT policies

).

Overall, the examples confirmed that changes to the status quo were not desirable because distrust existed between business and IT unit, while social and technical challenges did not pose an immediate threat that would have justified discontinuance. Business rationales for continuing the systems as business-managed systems resulted from specialized needs for knowledge existing only in the business units. The trust-lacking relationship between business and IT and weak IT unit power made the transfer in the cases in turn less likely or excluded this option entirely.
5

Discussion

The paper aimed to reveal shadow IT post-identification outcomes and to give insight into the underlying reasons for when which outcome occurs. Taking a configurational perspective, we identified six distinct configurations of deficiency mechanisms under the presence of different contextual factors explaining four outcome combinations: phase-out, replacement, continuing as IT-managed system, and continuing as business-managed system.

In general, it could be seen that phase-out and replacement, representing outcomes in which the shadow IT system was discontinued post-identification, were brought about by a combination of social and technical deficiencies. Continuing as business-managed system represented another outcome, which was found in a constellation of distant, disengaged, or overloaded IT units that did not perceive urgency with regard to a functioning system. Finally, continuing as IT-managed system represented a special case of a committed IT unit – driven by strict IT policies or requirements – taking over control over a shadow IT system post-identification. In the following, the deficiency mechanisms and contextual factors are analyzed in detail.
5.1

Key Mechanisms and Contextual Conditions
5.2

Limitations

Before elaborating on theoretical implications, we will mention several limitations of our study. First, we have mostly relied on single respondents to reconstruct the profiles of the systems. Their role or relationship to the shadow IT system may affect their responses. We aimed at consulting multiple sources of evidence where possible, but future studies could equally involve each of these roles (user, sponsor, developer, and IT control) for each system to avoid potential biases. We were also not able to triangulate some of the information from interviewees with written documentation, because there was none available. Business units often intentionally cover the design and use of shadow IT systems. The lack of documentation is a direct result. Hence, this limitation might only be resolved through direct observation of development of such systems in the future. An additional limitation of the study is that it did not track the development of shadow IT systems over time. The understanding of the life cycle of shadow is limited to the perspective at one point of time (at which the interview was conducted). Furthermore, only such shadow IT systems could be considered which people were willing to talk about. No systematic scanning was considered feasible here. Moreover, we acknowledge the limited number of cases per configuration, which calls for collecting data on more cases. Finally, our focus on "systems" might have biased our view and future studies may devote similar attention to other artifacts such as cloud services, hardware devices, and technical tools (cf. Zainuddin

2012

; Silic and Back

2014

; Matt

2018

).
5.3

Theoretical and Practical Implications

Our findings extend the shadow IT literature as well as the architecture/governance streams of the IS literature. While the existing literature has already considered challenges related to shadow IT systems (e.g., Raden

2005

; Panko

2006

; Behrens

2009

; Fuerstenau and Rothe

2014

; Haag and Eckhardt

2017

; Haag et al.

2019

), the literature lacks systematic analyzes of shadow IT post-identification outcomes, considering the underlying mechanisms and contextual conditions. We contribute to this literature by suggesting a configurational theory of shadow IT post-identification outcomes, which introduces deficiency mechanisms and contextual factors that explain these outcomes. Moreover, we regard our paper as a contribution to future efforts for increasing the controllability over a shadow IT system's lifecycle. As the identification of a shadow IT system can be followed by strong interventions such as discontinuing a system, knowledge about mechanisms and contextual factors may help to increase the manageability of shadow IT systems as well as their transfer from a "covert" to an "overt" mode in which they are managed openly with oversight of the IT unit (Zimmermann et al.

2016

,

2017

; Haag and Eckhardt

2017

; Kopper et al.

2018

).

For CIOs and IT managers it is important to be fully aware of the different options on how to proceed when a shadow IT system is identified. Our findings suggest that systematic assessment of contextual factors as well as social and technical deficiencies might offer good grounds for IT managers to decide. Considering these factors is increasingly important as demands on IT governance are gradually changing with digitalization (Urbach et al.

2019

). Our research framework might inform standard procedures for handling identification events in three ways. First, it provides an overview of the different courses of action which effectively leads to a more founded decision making. Second, assessing social and technical deficiencies while incorporating knowledge on the contextual conditions provides a method to weigh potential risks against business opportunities for potentially innovative systems. Our configurational analysis implicates that low-quality systems which showed both social and technical deficiencies were regularly phased-out or replaced. For high-quality systems, in turn, governance changes from business-managed to IT-managed depended on the context, for instance whether strict IT policies were in place. Through IT policies and business-IT trust, companies can shape which identified shadow IT systems are transferred to or replaced by central IT systems profiting from valuable business insights. Third, transparency of how to handle shadow IT systems further legitimizes a decision and reduces unintended consequences. Particularly, weakly legitimized phase-out or (distrustful) replacement of a system might severely impact existing business practices and individual motivations of shadow IT system developers and users as well as (further) harm business-IT trust.
5.4

Future Research Opportunities

In addition to confirming or revising our findings by means of additional cases and conducting a large-scale study to test our configurational hypotheses, we see four particularly promising ways to proceed further. First, we took a comparatively static perspective as we focus on one particular point of time in the life-cycle of a shadow IT system, its identification and consequent outcomes. Future work could make more explicit the temporal dynamics and processes that link the identified mechanisms and other life cycle transitions. In relation to that point, one could delve deeper into particular cases and explore in more detail the industry and other contextual conditions beyond the ones analyzed in our study. Second, we found a trustful relationship between business units and IT units to be an important contextual condition. The outcome of a shadow IT system identification, however, has an impact on these relationships, for instance, the phase-out of a cherished system. The relationship between shadow IT systems and trust may leave room to find self-reinforcing mechanisms. Third, we considered governance-related outcomes after identification as a consequence of IT policies in place. Future work may also consider how a policy for using shadow IT system is issued after the identification. Forth, future work may aim at designing a theory-guided managerial governance framework that supports the allocation of task responsibilities for shadow IT systems between business and IT units.
6

Conclusion

Shadow IT systems today pose many challenges and opportunities for organizations that may become visible when such systems are identified by management or the official IT. We started our analysis from four theoretically derived outcomes of these identification events, namely phase-out, replacement, continuing as IT-managed system, or continuing as business-managed system. We found that technical and social deficiency mechanisms predominantly determine discontinuance. At the same time, the contextual conditions chiefly determine the chosen governance regime for continued systems. The exploration of context-mechanism-outcome configurations, thus, helps us to further understand the effects of pulling shadow IT systems out of the shadow. This research contributes to the shadow IT literature while building upon IS literature on IT architecture and governance. The configurational approach informs IT managers on how to weigh decision options when identifying shadow IT systems.
Acknowledgements
Open Access funding provided by Projekt DEAL. We thank the Senior Editor and the Associate Editor as well as the reviewers for their sustained guidance during the entire review process. For helpful inputs and comments, we also thank Dr. Dieter Masak and Dimitrios Anapliotis.
Open Access
This article is licensed under a Creative Commons Attribution 4.0 International License, which permits use, sharing, adaptation, distribution and reproduction in any medium or format, as long as you give appropriate credit to the original author(s) and the source, provide a link to the Creative Commons licence, and indicate if changes were made. The images or other third party material in this article are included in the article's Creative Commons licence, unless indicated otherwise in a credit line to the material. If material is not included in the article's Creative Commons licence and your intended use is not permitted by statutory regulation or exceeds the permitted use, you will need to obtain permission directly from the copyright holder. To view a copy of this licence, visit
http://​creativecommons.​org/​licenses/​by/​4.​0/​
.
Electronic supplementary material
Below is the link to the electronic supplementary material.
Footnotes
1
Four additional interviews came from an earlier empirical study that was conducted in 2012 in the waste management industry. These interviews were included because they provided rich background information on two of the shadow IT systems of the present study.
2
Respondent data which could not be assigned to specific cases was used in the discussion only.