2016 | OriginalPaper | Chapter
Lessons Learnt in System Engineering for the SESAR Programme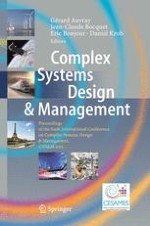 Authors: Alfredo Gomez, Benoit Fonck, André Ayoun, Gianni Inzerillo
Publisher: Springer International Publishing
Abstract
The SESAR 1 programme, which aims at improving Air Traffic Management in Europe, is entering into its seventh and last year of life. After two years, it reached a cruise regime, with simplified System Engineering and Management processes, to deliver each year a set of "SESAR Solutions", ready for industrialisation. Along with the management of the ongoing Program, the SESAR Joint Undertaking (SJU) prepared a following programme SESAR 2020, to continue the development and validation of next improvements organized to benefit from the lessons learnt during SESAR 1:
Coarser granularity,

Better and more integrated "strategic information" management,

More systematic management of System Engineering data, including Requirements, Validation Objectives, Validation results and Architecture models,

Strict monitoring of maturity progress of each SESAR Solution with predefined maturity criteria,

Focusing on annual Releases of mature Solutions.
These lessons learnt can be applied to any System of Systems Research and Development programme, where coordinated System Engineering is a key issue.