01-10-2013 | Research Paper | Issue 5/2013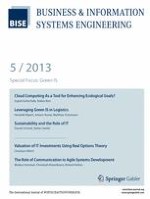 Leveraging Green IS in Logistics
Developing an Artifact for Greenhouse Gas Emission Tracking
Authors:

Dipl.-Wirtsch.-Inf. Hendrik Hilpert, Prof. Dr. Johann Kranz, Prof. Dr. Matthias Schumann
Important notes
Electronic Supplementary Material
The online version of this article (doi:
10.​1007/​s12599-013-0285-1
) contains supplementary material, which is available to authorized users.
Accepted after two revisions by Prof. Dr. Loos.
This article is also available in German in print and via
http://​www.​wirtschaftsinfor​matik.​de
: Hilpert H, Kranz J, Schumann M (2013) Green Information Systems wirksam einsetzen. Die Entwicklung eines IT-Artefakts für die Erfassung und Analyse von Treibhausgasemissionen in der Logistik. WIRTSCHAFTSINFORMATIK. doi:
10.​1007/​s11576-013-0379-x
.
Abstract
Logistics and especially road transportation account for a major proportion of global greenhouse gas emissions. Thus, increasing eco-sustainability is particularly important in this sector. Green information systems can support the transition towards more eco-sustainable business processes in logistics. To date research in Green IS has been dominated by conceptual and empirical studies, while the community has been reluctant to do design science research developing IS artifacts. Addressing this gap, we develop and evaluate a Green IS artifact for GHG emission tracking in road transportation processes – named Carbon Tracker. The design process was guided by design principles derived from prior Green IS literature. The artifact enables more eco-sustainable practices in logistics to emerge as it provides detailed information about GHG emissions that is indispensable for advanced organizational sense- and decision-making. The evaluation shows that the use of Carbon Tracker leads to more accurate and detailed information on emissions as well as more seamless and efficient workflows than today's best-practice approaches. Thus, the paper demonstrates how Green IS can be leveraged for more eco-sustainable and efficient business processes and paves the way for further design-oriented research in the Green IS domain.