01-04-2014 | WOOD AND OTHER RENEWABLE RESOURCES | Issue 4/2014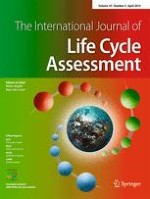 Life cycle assessment of cellulose packaging materials production: folding box board and
kraftliner

paper
Authors:

Anna Lúcia Mourad, Henrique Luvison Gomes da Silva, Júlio César Batista Nogueira
Important notes
Responsible editor: Zbigniew Stanislaw Klos
Abstract
Purpose
Many companies around the world have been challenged to make their products in a more sustainable way in the last decade in order to minimize their environmental impacts. Klabin, the largest producer, exporter, and recycler of paper in Brazil, has made great efforts to exchange old for new and more efficient equipment to produce cellulose packaging materials. The objective of this study was to measure the benefits of modernization of its plant located in the southern region of the country for manufacturing carrier board/folding box board (CB/FBB) and
kraftliner
paper (KP).
Methods
The goal established was analyzed through a
cradle
-
to
-
gate
life cycle assessment methodology.
Results and discussion
The modernization carried out has led to several improvements such as the reductions measured by the functional units of 1,000 kg of CB/FBB and 1,000 kg of KP, respectively, of energy consumption (21 and 3 %), water (8.5 % for CB/FBB only), wood (6.6 and 7.2 %), and land use (6.9 and 7.1 %). The environmental impact categories (according to CML 2001) that have suffered greater reductions are human toxicity (68 and 69 %), abiotic depletion (59 and 28 %), and global warming potential (51 and 9 %) for the same reference units.
Conclusions
The results achieved clearly show the importance of renewing industrial plant in order to achieve better environmental performance and also provide a historical inventory perspective for the company to establish future targets for improvement.