2021 | OriginalPaper | Chapter
Life Cycle Assessment of Thermoplastic Hybrid Structures with Hollow Profiles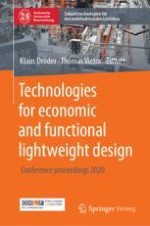 Authors: Alexander Liebsch, Michael Müller-Pabel, Robert Kupfer, Maik Gude
Publisher: Springer Berlin Heidelberg
Abstract
The combination of innovative materials, process chins and intelligent material-adapted design concepts enables an efficient part production for future mobility applications. Hybrid structures made of thermoplastic pre-impregnated composite (TPC) sheets and injection moulding bulk material have already crossed the threshold to series production. Thanks to a newly developed production technology, hollow profiles with continuous fibres can now also be integrated into thermoplastic composite hybrid structures in the sense of a modular design system. However, the resource consumption of such hybrid structures has not yet been investigated.
This contribution describes the set-up and life cycle analysis (LCA) of a highly automated manufacturing process for the production of complex crash-loaded vehicle structures in thermoplastic composite design. The concept bases on the production of a hollow profile made of hybrid yarn, which is subsequently overmoulded and combined with a TPC sheet in an injection moulding process. For the hollow profile manufacturing, a novel automated preforming technology is used. The textile preform is then consolidated in a variothermal consolidation station, consisting of a temperature control system and an additively manufactured consolidation tool. For the subsequent overmoulding of the hollow profile, methods for stabilising the hollow profile were studied and implemented in an injection moulding complex. A plasma system for activating the surface of the hollow profile was used to create a permanent joint between the hollow profile and TPC sheet. At the example of a backrest with an integrated seat belt, the technology and its potential application in crash-relevant structures was proven.
In addition to the process set-up, manufacturing studies were carried out with the aim of evaluating the ecological potential of the process chain. For this purpose, a cradle-to-gate approach was chosen, in which the process-related energy consumption as well as the material consumption were measured and used for LCA. Thus, the most relevant process steps can be identified and possibilities for increasing efficiency can be derived.