16-06-2016 | REGIONAL TOPICS FROM LATIN AMERICA | Issue 2/2017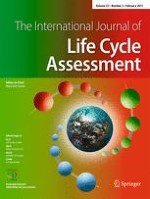 Life cycle assessment research in Brazil: characteristics, interdiciplinarity, and applications
Authors:

Cristina Gomes de Souza, Rafael Garcia Barbastefano, Renata Cristina Teixeira
Important notes
Responsible editor: Nydia Suppen-Reynaga
Electronic supplementary material
The online version of this article (doi:
10.​1007/​s11367-016-1150-5
) contains supplementary material, which is available to authorized users.
Abstract
Purpose
This paper aims to present an overview of the research groups on life cycle assessment (LCA) in Brazil to (i) characterize these groups, including their constitution, geographical distribution, and the nature of the institutions to which they are connected; (ii) classify the groups according to the knowledge areas and identify the existing interdisciplinarity between research lines; (iii) identify collaborative relationships between the groups; and (iv) determine the main focus of interest and applicability of the studies and activities developed.
Methods
The identification of and information about the groups that developed studies related to LCA were obtained from a survey of the Brazilian Directory of Research Groups (DRG). Interdisciplinarity was based on the classification of each group's lines of research. Collaborative relationships were identified from co-authored publications indexed in the Web of Science. The research groups' focus was defined based on their descriptions and sectors of activity, as reported in the DRG.
Results and discussion
The study covered a total of 82 groups and 510 research lines. Among the findings, the following can be cited: there is great regional asymmetry in the distribution of groups; most of them are linked to universities and are located in Engineering, specifically Industrial, Mechanical, Sanitary, and Civil; there is an interdisciplinary approach that covers 49 areas of knowledge; and the main focus of the groups is related to sectors of activity such as energy (emphasis on biofuels), agriculture and livestock, and construction. Some groups developed studies with practical applications, whereas others focused on conceptual aspects related to environmental management and sustainable development.
Conclusions
The number of research groups related to LCA has grown in Brazil. This growth is important, especially for a country such as Brazil, which has continental dimensions and a number of regional specificities. However, a vast field of study remains to be explored, and this assessment method needs to be disseminated more widely in some regions of the country.