01-07-2019 | MATHEMATICAL METHOD IN PATTERN RECOGNITION | Issue 3/2019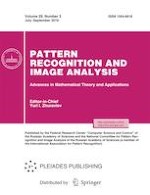 Lightweight Nearest Convex Hull Classifier
Author:

A. P. Nemirko
Important notes
Anatolii Pavlovich Nemirko.
Graduated from St. Petersburg Electrotechnical University LETI in 1967. Since 1986, has worked as a professor at the Department of Bioengineering Systems at the same university. Received doctoral degree in 1986 and professor degree in 1988. Scientific interests: pattern recognition, processing and analysis of biomedical signals, intelligent biomedical systems. Author of more than 300 scientific publications including 90 papers and five monographs. Board member of the International Association of Pattern Recognition and member of the editorial board of the
Pattern Recognition and Image Analysis
.
Translated by O. Pismenov
Abstract—
A new type of classifier, the lightweight nearest convex hull (LNCH) classifier, is proposed. It is called lightweight due to the simplicity of its algorithm. It is based on a new method for estimating the proximity of the test point to the convex hull of a class in the case when the test point intersects convex hulls of the classes. The concept of the penetration depth of a point into a convex hull is used. Proximity is determined based on the analysis of extreme points projected on the direction vector from this point to the centroid of the class. A decision rule for multiclass problems is derived for the LNCH classifier using a new method for estimating the proximity. The results of experimental studies on synthesized numerical data and on real data for breast cancer diagnosis are given. The results indicate higher recognition accuracy of the LNCH classifier compared to other types of classifiers.