01-07-2014 | Methodologies and Application | Issue 7/2014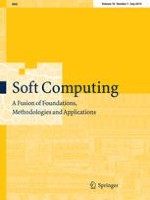 Linear optimization with bipolar fuzzy relational equation constraints using the Łukasiewicz triangular norm
Journal:
Authors:

Pingke Li, Yuhan Liu
Important notes
Communicated by T. Allahviranloo.
This work was supported by the National Natural Science Foundation of China under Grants 61203131, 11171177, and 71301084.
Abstract
This paper discusses the linear optimization problem constrained by a system of bipolar fuzzy relational equations with max-
\(T\)
composition, where the involved triangular norm is the Łukasiewicz t-norm. Although it is in general NP-hard, such an optimization problem can be reformulated in polynomial time into a 0-1 integer linear optimization problem and then solved taking advantage of well developed techniques in integer optimization.