Published in: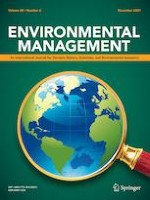 Open Access 16-09-2021
Linking Macroinvertebrates and Physicochemical Parameters for Water Quality Assessment in the Lower Basin of the Volta River in Ghana
Published in: Environmental Management | Issue 6/2021
Abstract
The health of the lower basin of the Volta River in Ghana was evaluated in January–February and May–June 2016 using physicochemical parameters and benthic macroinvertebrates sampled at 10 locations. Selected environmental variables were compared to accepted environmental water quality standard values where applicable. Principal component analysis (PCA) and redundancy analysis (RDA) were used to analyse the association between the benthic macroinvertebrates distribution and physicochemical variables. Pesticide concentrations were generally below the limit of detection 0.01 and 0.005 µg/L for organophosphate/synthetic pyrethroid and organochlorines respectively. Nutrient levels were also generally low; however, significant differences existed between the values of physicochemical parameters at the different sampling sites and seasons (Monte Carlo permutation test;
p
 = 0.002), as well as between the abundance of macroinvertebrates at the different sites and seasons (
p
 = 0.002). The environmental variables dissolved oxygen (DO), phosphate, pH, substratum (
p
 < 0.05), turbidity, conductivity, total dissolved solids, total solids and nitrate (0.05 < 
p
 < 0.10) significantly explained the variation in macroinvertebrate composition between sampling stations in the Volta River.
Polypedilum fuscipenne
, was positively correlated with turbidity and DO concentrations;
Physa
sp.,
Centroptilum
sp.,
Centroptiloides
sp.,
Phaon iridipennis
and juvenile fish were positively correlated with nitrate concentration and pH and negatively correlated with turbidity and DO. Polluted sites were dominated by the snail
Lymnaea glabra
. This demonstrates that physicochemical parameters and macroinvertebrates could be applied to describe the water quality and improve the biomonitoring for water resources management and the environmental protection in the Lower Volta River.
Supplementary information
Publisher's note
Springer Nature remains neutral with regard to jurisdictional claims in published maps and institutional affiliations.
Introduction
The Volta River is one of largest river systems in Africa covering an area of ~400,000 km
2
; shared by six riparian states of West Africa and one of the most important river systems in Ghana (Barry et al.
2005
). The north-south extent of this transboundary basin stretches from approximately latitude 5
o
30′ N in Ghana to 14
o
30′ N in Mali, with the widest stretching approximately from longitude 5
o
30′ W to 2
o
00′ E (Gordon et al.
2013
). The lower part of the river basin promotes different uses including agriculture, aquaculture, fishing, water for domestic (drinking) and industrial purposes, water transport, sand mining and industrial activities (e.g. textile works) among others (Andah et al.
2003
; Mul et al.
2015
). The lower basin also includes two hydroelectric dams (Akosombo and Kpong). The Kpong Dam is 24 km downstream of Akosombo along the river channel and the establishment of the Akosombo dam for example has rendered some of the soils more acidic (Barry et al.
2005
). Sedimentation in the river has been reported, resulting from the hydrological alterations of the dams (Boateng et al.
2012
; Ly,
1980
; Amenuvor et al.
2020
). The river also receives domestic wastewater, industrial wastewater, municipal and rural wastes, and other human activities. High levels of organic pollutants may degrade the water quality in receiving waters and threaten the aquatic ecosystems (Asantewaa Owusu et al.
2016
; Corcoran et al.
2010
; Wang et al.
2013
). For example, water may become polluted due to a range of contaminants originating from agricultural activities (Hooda et al.
2000
; Karikari, Ansa-Asare (
2006
); Lovelle, Sullivan (
2006
)). Indeed, pesticides have been reported to affect water bodies in Ghana (Acquaah (
1997
); Fianko et al.
2011
; Ntow
2001
2005
). In addition, the statistics show that the water sources have been, and continue to be, exploited (Asantewaa Owusu et al.
2016
). To improve the water resources management and the water quality monitoring for the Volta River system and other water resources, monitoring of physiochemical parameters and aquatic macroinvertebrates have been applied (Baa-Poku et al.
2013
; Thorne et al.
2000
; Thorne and Williams
1997
). In Ghana, however, the application of these monitoring tools to evaluate the relationships between the community composition of benthic macroinvertebrates, physicochemical variables and pesticides for the water quality evaluation is rather limited and in its early stages.
Benthic macroinvertebrates are a ubiquitous and diverse group of species that react strongly and often predictably to human influences in aquatic ecosystems. In addition some are sedentary; therefore, body burdens reflect local conditions, allowing detection of a variety of perturbations in a range of aquatic habitats (Rosenberg and Resh
1993
). Benthic macroinvertebrates are an important and integral part of many aquatic ecosystems and any negative effects caused by pollution in the community structure can in turn affect higher trophic levels like fish and birds. Further, benthic invertebrates have the ability to clean waterways as they utilize the organic and detritus matter (Sharma and Chowdhary,
2011
). Macroinvertebrate populations in streams and rivers can assist in the assessment of the overall health of the system (e.g. Carlisle et al.
2007
).
The overall objectives of the research were to: (1) evaluate the values of the physicochemical parameters and pesticides and benthic macroinvertebrate richness and composition in the Lower Volta River system, and (2) examine the relationships between the environmental variables and the macroinvertebrate community to determine their response to the water quality parameters in the Volta River.
Materials and Methods
Results and Discussions
Conclusions
The results of this study show that macroinvertebrate community composition shifted along the physicochemical parameters, site and season. There were significant correlations between macroinvertebrate communities and environmental variables (i.e. DO, turbidity, substratum, total solids, EC, TDS, pH, and nutrients) in the Volta river. There was also a significant relationship between macroinvertebrate community composition and sampling sites. Absence of benthic macroinvertebrates was recorded at a few samples sites of the Volta river where high levels of nutrients were determined. Our results suggest that anthropogenic activities (e.g. aquaculture, agriculture effluent discharges) altered the macroinvertebrate community composition directly or indirectly in the exposed sampling sites.
Supplementary information
Acknowledgements
The work was sponsored by a scholarship provided by the Ghana Education Trust Fund (GETFund).
Compliance with ethical standards
Conflict of interest
The authors declare no competing interests.
Open Access
This article is licensed under a Creative Commons Attribution 4.0 International License, which permits use, sharing, adaptation, distribution and reproduction in any medium or format, as long as you give appropriate credit to the original author(s) and the source, provide a link to the Creative Commons license, and indicate if changes were made. The images or other third party material in this article are included in the article's Creative Commons license, unless indicated otherwise in a credit line to the material. If material is not included in the article's Creative Commons license and your intended use is not permitted by statutory regulation or exceeds the permitted use, you will need to obtain permission directly from the copyright holder. To view a copy of this license, visit
http://​creativecommons.​org/​licenses/​by/​4.​0/​
.
Publisher's note
Springer Nature remains neutral with regard to jurisdictional claims in published maps and institutional affiliations.