Published in: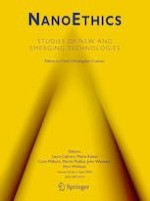 Open Access 10-12-2019 | Original Research Paper
Living Machines: Metaphors We Live By
Published in: NanoEthics | Issue 1/2020
Abstract
Within biology and in society, living creatures have long been described using metaphors of machinery and computation: 'bioengineering', 'genes as code' or 'biological chassis'. This paper builds on Lakoff and Johnson's (1980) argument that such language mechanisms shape how we understand the world. I argue that the living machines metaphor builds upon a certain perception of life entailing an idea of radical human control of the living world, looking back at the historical preconditions for this metaphor. I discuss how design is perceived to enable us to shape natural beings to our will, and consider ethical, epistemological and ontological implications of the prevalence of this metaphor, focusing on its use within synthetic biology. I argue that we urgently need counter-images to the dominant metaphor of living machines and its implied control and propose that artworks can provide such counter-images through upsetting the perception of life as controllable. This is argued through discussion of artworks by Oron Catts and Ionat Zurr, by Tarsh Bates and by Ai Hasegawa, which in different ways challenge mechanistic assumptions through open-ended engagement with the strangeness and messiness of life.
Publisher's Note
Springer Nature remains neutral with regard to jurisdictional claims in published maps and institutional affiliations.
Introduction
Metaphors of machinery and computation abound within biology, from 'genes as code' or 'biological chassis' to 'microbial cell factory'. These metaphors are especially prevalent in mainstream media science communication and in science education. This paper takes as a starting point Lakoff and Johnson's argument in
Metaphors We Live By
[
1
] that such language mechanisms shape how we understand the world. While the 'living machines' metaphor is increasingly prevalent in recent years with the influx of bioinformatics and emergence of new bioengineering fields such as synthetic biology, its history can be traced beyond the Mechanical Philosophy of the Scientific Revolution, to the mechanistic thoughts of the pre-Socratic Greeks.
In this paper, I will, after discussing the conceptualisation of metaphors, start by addressing aspects of mechanistic philosophy
1
that form an important historical backdrop for the current use of machine metaphors. I argue that the living machines metaphor contributes to an idea of radical human control of the living world and that the success of synthetic biology in spreading visions of how its engineering approach will change life as we know it means that the machine metaphor becomes further ingrained in societal perceptions of living organisms. I discuss how design in synthetic biology is perceived to enable us to shape natural beings to our will, and briefly consider ethical, epistemological and ontological implications of the prevalence of this. I argue that other metaphors do not currently serve to properly balance the living machines metaphor, and we urgently need to search for such balance in the face of the dominant metaphor. Therefore, I look to artworks that set out to challenge the notion of life as machinery for quite other, equally spectacular visions.
2
The evocative, embodied presence of art can, I argue, serve as a counterbalance to the predominance of a metaphor that frames life in a rather reductive and inaccurate manner. I discuss three artworks that are themselves concerned in various ways with control, but that problematize the extent to which we can control and understand living organisms. Drawing on artworks in the discussion of synthetic biology is particularly appropriate, since a subsection of this field, whose efforts to engineer biology is focused on creativity, play, and the spectacular, explicitly values aesthetics and the creative input of artists and designers [
6
,
7
].
Metaphors We Live By
Lakoff and Johnson, in
Metaphors We Live By
, argue that metaphor 'is not just a matter of language, that is, of mere words […] human
thought processes
are largely metaphorical' ([
1
]: p. 6). They hold that we form systematic ways of talking about a certain overarching concept, informed by the metaphorical concept itself. For instance, they use the metaphor 'argument is war' and show how it is used to describe how we argue: we 'win', and 'lose' arguments, 'shoot down' the 'opponent', 'attack' or 'defend a position' and so on ([
1
]: pp. 5–6). These ways of speaking become so much a part of our everyday speech and thought patterns that we hardly think of them as metaphors at all. But Lakoff and Johnson ask us to imagine a culture where argument, instead, was perceived as a dance. This is a potent description of the power of metaphors, in language, images and so on, to shape how we think about the world. In making us focus on certain aspects of a concept, other aspects may be kept out of focus.
This cognitive linguistic view challenged what was up until the 1980s the predominant idea of metaphors, as a component of language distinct from the literal, with mainly aesthetic or diversionary purposes [
8
,
9
]. Lakoff and Johnson's lucid argument has led to new realisations about how metaphorical language shapes the way we think. A number of scholars have showed how this applies to science, also from insider's perspectives [
10
‐
12
]. As Laura Otis argues about the connections nineteenth century scientists made between nerves and networks of telegraph lines, such analogies have real conceptual force: 'metaphors do not 'express' scientists' ideas; they
are
the ideas' ([
13
]: p. 48). In the context of synthetic biology, McLeod and Nerlich ([
14
]: p. 2) posit that 'the language we use to make a better world matters; words matter; metaphors matter'.
The metaphor of life as machinery is widespread, and for good reasons. It is hard to imagine how a cell operates, since it functions at such a different scale from our own. Imbuing it with a metaphor enhances particular understandings, which can be quite helpful. Nicholson [
9
] has distinguished between three major roles for scientific metaphors: (1) theoretical, which is important to scientific understanding, (2) heuristic, which can be key to scientific discovery and (3) rhetorical, which is central to scientific communication. He emphasises that for the most pervasive metaphors, all three roles can be in play. This is certainly the case for the machine conception of life. As a 'grand metaphor' [
8
], it inspires a whole range of sub-metaphors, some of which will be discussed later in the paper.
Universal Mechanism
The idea that the universe is comparable to a large mechanism, which runs rationally and predictably like a machine, has existed since the ancients. The Babylonians were able to predict celestial occurrences, and the Greeks inherited from them the idea that heavenly motions were regular and could be rationally understood through mathematics and geometrical models. Many philosophies of the time drew on these perspectives in seeking to understand the natural world, most prominently atomist theories deriving from Democritus's materialist philosophy and developed by Epicurus, and most of Stoic physics.
Biological Machines in Synthetic Biology
Ontological, Epistemological and Ethical Implications of the Machine Metaphor
Embracing the Messy: Artists Counter the Standardisation of Synthetic Biology
Synbio, as argued by artist Oron Catts, 'is one of the first technologies in which there is a very direct move to engineer public acceptance even before the technology is here. I have been to some meetings where it was said that we have to learn from genetic engineering; we have to create public acceptance before we push it. And the solution was to use artists' ([
53
]: p. 79). However, he continued, 'there is a community of artists who are sophisticated enough and have the experience to try to manipulate this. It might not work, but we need to address such issues and I think these areas need cultural scrutiny' [
53
]. Aiming at a rather different audience than that of popular science, art is situated to convey the issues of science and the living world from and to the perspective of human beings, but without a necessarily human-centric approach. Like science, art is concerned with creation and control, but often at a different level and for different ends. It also contains centrally elements of playfulness, encouraging imagination and wonder [
54
‐
56
], which according to Nussbaum ([
54
]: p. 100) have an 'important role in shaping democratic citizenship'.
There are plenty of examples of artists embracing the project of synbio, both using the same methods and subscribing to the corresponding metaphors. An example of an evocative piece that follows this path is Joe Davis' collaborative work with George Church's lab to record the written information on Wikipedia in DNA. The aim of the project
Malus ecclesia
(bad church, or apple church) is to create a 'tree of knowledge', inserting the synthetic 'raw DNA' into saplings of the oldest known apple species,
malus sieversii
(see e.g. [
57
]). This rich project very much embraces not just the methods, but also the metaphors and mindset, of synbio. However, other artists take the path suggested by Catts in the previous paragraph, including himself, in his projects with partner Ionat Zurr.
Oron Catts and Ionat Zurr
Catts and Zurr are lead artists at SymbioticA, University of Western Australia, the world's only Centre for Excellence in Biological Arts. They have made a career of more than 20 years of using biological techniques in artworks that question narratives of 'life as a coded program—"biology as information"' ([
58
]: p. 126). Prolific writers, they state their desire 'to argue for the ethical, cultural, and political importance of experiential engagement with life manipulation, as it can be an effective methodology to confront the complexities and to contest dominant ideologies regarding the life sciences' [58]. They explicitly seek to counter genocentrism and 'genohype' [
59
] through their work, and complain about their frequent encounters with this phenomenon when their own tissue culture work is described, incorrectly, as genetic artworks [
58
].
Catts and Zurr have repeatedly made it clear that they consider themselves to have a different 'contract' with society. They seek to 'provoke, question and reveal hypocrisies through different tactics: whether through aesthetic, absurd or subtle confrontations. Allowing loss of control or "engineering futility"; making our audience uneasy is an outcome of our own discomfort' ([
60
]: pp. 6). This is shown in their art through an embrace of aesthetics of futility and failure. A famous example is the version of
Victimless Leather
displayed at New York's MoMA in 2008
.
For this piece they grew immortalised cells over a miniature jacket-shaped biopolymer, as an ironic reflection on future hopes of lab-grown leather created without killing animals. In previous exhibitions they had used used a combination of mouse (connective tissue) and human (bone and skin) cells, but this time they used mouse embryonic stem cells, which grew so fast that they clogged up the automated feeding system—the jacket's 'life support' ([
61
], and email communication from Oron Catts, 7 March 2019). In a publicised act, the curator unplugged ('killed') the cell system before the end of the show, and the artists often refer back to its monstrous shape. Figure
1
shows two other failed instances of the artwork: fungal contamination of the kimono-shaped jacket grown at the Mori Art Museum in Tokyo in 2010 and a mysterious jacket 'melt-down' at the Casino Luxembourg. These situations are prominently featured in the artists' communication of their piece [
62
,
63
], particularly in their references to biological entities' penchant to evade the attempted control of life in the lab.
×
In a recent exhibition called
Biomess
(2018), the duo brought together live creatures and specimens from the Western Australia Museum, that 'defy human conventions about identity, gender, procreation' (Zurr, quoted in [
64
]). The specimens were elegantly displayed as 'luxury goods', in tall, glossy display cases resembling those one might find in a high-end retail store. The result was an exhibition that went against the conventions of both art and science exhibits, but more profoundly, challenged conventional ideas about life, organisms, reproduction and death. From sea sponges that can reassemble the original organism after having been disintegrated through a sieve and mixed with other sponge cells, to bearded dragons with the chromosomes of one sex but the physical properties of the other, the exhibition facilitated the realisation that 'we humans are basically quite boring in our understanding of life and what our bodies can do' (Zurr, quoted in [
64
]). However, humanity's penchant for affecting change was also prominently featured. A tragicomic example is that of the male jewel beetles, which during the 1980s became attracted to a certain type of brown beer bottle, to the extent that they ignored the female beetles, resulting in a reproductive crisis. Finally, a deconstructed incubator held hybridoma cells, merged from primary and immortalised mice cells. As an example of lab-grown organisms that would not have existed without human manipulation, the hybridomas represent the effect of science on the world, the creation of new ecologies that would not have arisen in a 'natural' environment.
Tarsh Bates: HumanThrush Entanglements
Tarsh Bates has been working for years with
Candida albicans
, or thrush, a common yeast culture that is symbiotic with human bodies (guts and reproductive organs) and an opportunistic pathogen. She views
Candida
as a 'companion species'—building on Donna Haraway's work with dogs, but taking the idea of significant others further from our comfortable scales. Bates has pointed to the warfare metaphors used in the discussion of pathogenic
Candida
([
65
]: p. 26), including terms such as 'immunological shields' ([
66
]: p. 408) and the notion that '
Candida
evades the host defense armory' ([
67
]: p. 1304).
Her focus, however, is on how these and other microorganisms are parts of our self—integral components of our bodies—and she seeks to embrace this through engaging with the yeast outside of the body. In
The Unsettling Eros of Contact Zones
(2015), she baked bread with
Candida
, and wished to serve it to the art gallery audience. However, her university employer at first refused her suggestion to serve the bread due to biosafety concerns, although all microorganisms used to leaven the bread were killed in the baking process. Only after a meeting to clarify her intentions, a series of food safety experiments demonstrating that all the microbes were inactive and a 50-page risk management plan that included a public anxiety management section did they consent to have it served (personal communication with Bates, 27 February 2019).
In
Control of Cell Morphology in vivo
(2014),
Candida
was explicitly brought up to our scale through images that could be viewed in a zoetrope, a pre-film animation devise (Fig.
2
). The audience, cranking the handle of the devise, would set the images in motion, thus interacting with the
Candida
in an almost intimate sense, viewing them close-up, but at a safe distance. Pandilovski [
68
] and Thacker [
69
] have argued for the importance of embodied temporality in the relationality established by bioart in the presence of the living other, and Bates' work exemplifies this: in engaging with the close-ups of the
Candida
, we are in control of the terms of our interactions with the organisms, both being able to slow down or speed up the images according to our liking, and to feel at once close and safely remote from the
Candida
. Bates thus explicitly creates a context of control for something that is not, ordinarily, controllable—and this very context brings our ordinary lack of control into sharp relief. Through facilitating audience encounters with
Candida
in various forms, and through poetic writing about her entanglements with these microbes that oscillate between companions and parasites, friends and foes, she challenges established ways of thinking of and existing with this yeast that is integral to most of our bodies.
×
Ai Hasegawa: I Wanna Deliver a Dolphin
In addition to those working with living organisms and laboratory methods, a larger group of artists and designers are relating to developments in the life sciences at the notional level. Ai Hasegawa's
I Wanna Deliver a Dolphin
(2013) exists in the realm of speculative design, with a proposal of one future application of synthetic biology. The idea for this piece, first developed in
I Wanna Deliver a Shark
(2012), is that we might deal with human overpopulation and save endangered species through human mothers carrying those species forth in their womb. This would be done through a synthetised cross-species placenta, genetically engineered to not allow antibodies to pass from 'mother' to 'child'. For the second piece in the series, Hasegawa chose the Maui dolphin, which is critically endangered (in 2012, there were an estimated 55 left in the world), with a foetal size close to that of a human foetus.
While the Maui dolphin is no longer commercially fished for due to its endangered status, it often ends its life in fishing nets. Hasegawa deliberately chose dolphins and sharks as types of animals that are popular foods in many Asian countries and brought near extinction by human eating habits (personal communication with Hasegawa, 27 February 2019). A challenging part of the vision was whether you would eat something you had given birth to; if so, it could be an embodied and engaged way for humans to grow their own food. Releasing them into nature would also potentially increase the future food supply. Central to the piece was a video of a woman 'giving birth' to a dolphin in a swimming pool (Fig.
3
) and bottle-feeding the new-born calf. A cross-section model of the human belly with dolphin foetus was displayed in a smooth plaster finish that seemed to emphasise the hypothetical nature of the scenario. A 'dilemma chart' ('Why don't I get pregnant with…?') sought to help potential parents decide whether to go through with such a process (Fig.
4a
). Further complicating this rich piece was a story from a future where dolphins were declared 'non-human persons' in 2013. In this future, all aquariums were shut down as cruel and converted to dolph-human houses, where dolphin babies were born from human mothers. A vandalised sculpture of a dolph-human 'family' was, according to the artist's text, destroyed by 'Nature as Paradise' activists who sought to reintroduce notions of species integrity lost in the cross-species breeding practice (Fig.
4b
) [
70
].
×
×
The piece suggests a complex web of possibilities as to our future interactions with animals, giving rise to speculative questions such as the following: Would carrying another animal species within your womb give rise to similar maternal feelings as carrying a human foetus? And would this prevent you from later wanting to eat that particular animal, or other members of its species? What sort of extra responsibility would this kind of procreation entail? Is a similar responsibility required when genetically manipulating life forms in other, less personal and embodied ways [
71
]?
Through making us think about our relationship to our own bodies and those of other living beings, the above pieces, through quite different means, address life in its complexity, relationality and potentiality. None of them use synbio materially, but both Catts and Zurr and Bates use other forms of biotechnology at the cellular level; they engage with creatures at the micro-level, in ways that bring them up to the scale we can experience with the naked eye. Hasegawa, on the other hand, works in the nominal realm, asking us to imagine what synbio might lead to if some of its visions come to fruition. We are living in a culture in which science and technology have a transformative impact on society that few other fields can match. However, rich artworks such as these provide an invaluable counterpoint to a dominant mechanistic discourse, encouraging a more embodied and holistic approach to biotechnology as embedded in a natural and cultural context [
72
,
73
]. Perhaps this approach, through showcasing the limits of our ability to control living beings, can engender further understanding of other life forms.
Conclusion
Synbio presents more continuity than break with previous mechanistic approaches to life. Its engineering approach to understanding and creating life forms can be seen as symptomatic of tendencies within Western societies to standardise and abstract in order to understand. In itself this has, as I have emphasised, been quite helpful in furthering scientific understanding within biology. However, an ontological and ethical danger arises from the conflation of organisms with machines. Although synbio does not necessarily represent a novel ontological approach, the predominance of the machine conception of the organism and the apparent drive to spread the ontological assumptions this entails are causes for concern. The ideas of complete control, reduction and standardisation are part of what imbues synbio with its power [
14
]. Although this way of perceiving life can lead to important biotechnological innovations, the dominance of the machine conception can provide a hindrance both to further scientific understanding and to relational ways of thinking about living organisms.
I have argued that artworks such as those by Catts and Zurr, Bates and Hasegawa have the capacity to shift our perceptions of the living things around us, through embracing and appreciating the messiness and complexity of even minute forms of life, bringing them up to our level of perception and embedding them in cultural imaginations of our present and future. They can thus serve as counterpoints in a technoscientific discussion that is largely focused on utility, application and risk. Rather than explaining complex organisms by reference to their parts, these works show us a way of thinking about organisms in their environment that, although perhaps not feasible as a scientific approach, at the societal level can serve to balance out the ontology of controllable life.
Acknowledgements
A very different version of this article started out as a conference paper at the
Politics of the Machines: Art and After
conference in Copenhagen in May 2018. I thank Laura Beloff and Morten Søndergaard for inviting me to host the track 'Wet Machines', and the audience for fruitful comments. I am particularly indebted to artist Beloff, biologist Ljiljana Fruk and fellow philosopher Maria Antonia González Valerio for inspiring exchanges during the end panel 'Life in Art—Where does the machine fit in?' I am also grateful to have been able to write parts of this paper during a generous research stay at the Department of Philosophy and Religious Studies at the Norwegian University of Science and Technology, and for the feedback on the paper at a departmental seminar.
Open Access
This article is distributed under the terms of the Creative Commons Attribution 4.0 International License (http://creativecommons.org/licenses/by/4.0/), which permits unrestricted use, distribution, and reproduction in any medium, provided you give appropriate credit to the original author(s) and the source, provide a link to the Creative Commons license, and indicate if changes were made.
Publisher's Note
Springer Nature remains neutral with regard to jurisdictional claims in published maps and institutional affiliations.