18-03-2021 | Issue 6/2021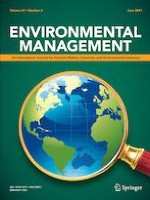 Local Decision-makers' Perspectives on Roadside Revegetation and Management in Iowa, USA
Journal:
Authors:

Kristine Nemec, Andrew Stephenson, Eva Aizpurua Gonzalez, Mary Losch
Important notes
Supplementary Information
Publisher's note
Springer Nature remains neutral with regard to jurisdictional claims in published maps and institutional affiliations.
Abstract
Environmental practitioners must understand those they collaborate with to implement programs that are both socially and ecologically effective. Practitioners who understand decision-makers' perspectives are better able to collaborate to lower political, financial, and cultural obstacles. In this study, we surveyed decision-makers involved with a voluntary environmental program in Iowa, USA. Iowa counties can choose to manage their roadside vegetation using an ecological approach, called integrated roadside vegetation management. Key decision-makers who decide whether a county has a roadside program are the county board of supervisors and the county conservation board. We used a mixed-mode design to survey the conservation board directors and chairs of the board of supervisors in each county. Our main goals were to understand the decision-makers' perceived benefits and barriers to having a roadside program in their counties, as well as the key factors influencing their decisions about roadside vegetation management. Safety, maintenance cost savings, and erosion control were the main factors that influenced decision-making, while pollinators and other wildlife received the least consideration. However, decision-makers in counties with a roadside vegetation manager were more influenced by pollinators and other wildlife compared to their counterparts in counties without a roadside vegetation manager. The main barriers to having a program include a lack of resources or other concerns being a higher priority. Emphasizing safety, cost savings, and erosion control benefits of roadside programs, and identifying ways to lower startup costs may increase buy-in with county decision-makers.