17-11-2020 | Issue 1/2021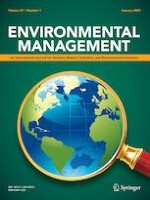 Localism "Reimagined": Building a Robust Localist Paradigm for Overcoming Emerging Conservation Challenges
Journal:
Authors:

Jessica Spelke Jansujwicz, Aram J. K. Calhoun, Karen Hutchins Bieluch, Bridie McGreavy, Linda Silka, Carly Sponarski
Important notes
Publisher's note
Springer Nature remains neutral with regard to jurisdictional claims in published maps and institutional affiliations.
Abstract
Governance gaps at both the federal and state level increasingly necessitate local action and remain a key driver of community-based solutions. A localist paradigm—encompassing models such as community-based management, citizen science, and cooperative research—offers a promising approach for bridging governance gaps by engaging citizens, co-producing knowledge, fostering trust, and developing innovative solutions to address complex conservation challenges. Yet, despite notable successes, significant barriers constrain widespread implementation of localist approaches. This is particularly evident in natural resource-dependent communities. Rural communities are increasingly faced with a range of conservation challenges related to rapid climate and land-use changes but often they lack the capacity to support locally based initiatives to better anticipate, plan for, and mitigate these changes. We examined four diverse conservation cases based on localist approaches in Maine, USA, to bring to the fore key factors that influence outcomes in different social-ecological contexts. We compared cases along three frequently discussed dimensions—governance systems, social adaptive capacities, and technology and data characteristics and found that localist outcomes vary widely depending on key metrics within each of these dimensions. There is no single way to advance localism, but we offer multiple ways to incorporate a community-based perspective into management. This synthesis of data from our collective participatory research projects provides guidance to maximize the potential of localist conservation approaches in complex social and biophysical arenas.