02-11-2019 | Methodologies and Application | Issue 13/2020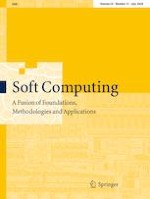 Machine intelligence-based algorithms for spam filtering on document labeling
Journal:
Authors:

Devottam Gaurav, Sanju Mishra Tiwari, Ayush Goyal, Niketa Gandhi, Ajith Abraham
Important notes
Publisher's Note
Springer Nature remains neutral with regard to jurisdictional claims in published maps and institutional affiliations.
Abstract
The internet has provided numerous modes for secure data transmission from one end station to another, and email is one of those. The reason behind its popular usage is its cost-effectiveness and facility for fast communication. In the meantime, many undesirable emails are generated in a bulk format for a monetary benefit called spam. Despite the fact that people have the ability to promptly recognize an email as spam, performing such task may waste time. To simplify the classification task of a computer in an automated way, a machine learning method is used. Due to limited availability of datasets for email spam, constrained data and the text written in an informal way are the most feasible issues that forced the current algorithms to fail to meet the expectations during classification. This paper proposed a novel, spam mail detection method based on the document labeling concept which classifies the new ones into ham or spam. Moreover, algorithms like Naive Bayes, Decision Tree and Random Forest (RF) are used in the classification process. Three datasets are used to evaluate how the proposed algorithm works. Experimental results illustrate that RF has higher accuracy when compared with other methods.