01-09-2020 | Original Article | Issue 18/2020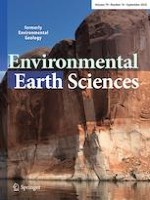 Magnetic prospecting and geochemical analysis for the mineral exploration of Mali-Dera deposits, Kohistan Island Arc-Pakistan
Journal:
Authors:

Syed Tallataf Hussain Shah, Faizan-ur-Rehman Qaiser, Nangyal Ghani Khan, Taimur Mir, Muhammad Jabir, Wasim Akram, M. Muneeb-ur-Rehman
Important notes
Publisher's Note
Springer Nature remains neutral with regard to jurisdictional claims in published maps and institutional affiliations.
Abstract
Chromite deposits have long been reported and exploited in Northern Pakistan as a result of the ongoing convergence of Indian and Asian plates. This research work is a study of one such prospect. We used geophysical and geochemical tools such as magnetic susceptibility at seventy-seven observation stations along with fifteen rock samples collected for geochemical studies. Our geochemical analysis reveals a very high value of Fe, Mn, Cu, and Ni in regions of high magnetic susceptibility indicating the possibility of the presence of Magnetite, Chondrite, Copper-pyrites, and Pentlandite Ores. In addition, we also conducted the correlations analysis to investigate the potential association between various geochemical variables including trace elements to evaluate the potential of the ores for economic minerals others than chromite. Our PCs analysis result presents a clear picture that most of the minerals such as Fe, Ni, Co, Cd, Mg, Mn, and Pd are produced by the same source. Our various analyses are in perfect agreement with previous literature indicating the presence of economical mining of Chromite.