13-07-2021 | Issue 3/2021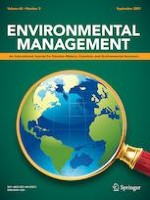 Mapping the Relative Habitat Quality Values for the Burrowing Owls (Athene cunicularia) of the Canadian Prairies Using an Innovative Parameterization Approach in the InVEST HQ Module
Journal:
Authors:

Aidin Akbari, Jeremy Pittman, Rob Feick
Important notes
Supplementary information
Publisher's note
Springer Nature remains neutral with regard to jurisdictional claims in published maps and institutional affiliations.
Abstract
The range and population of Burrowing Owls (BOs) are declining in the Canadian Prairies. Multiple anthropogenic sources of degradation (threat) are attributed to this trend. Yet, the cumulative degradation caused by these sources has not been quantified across this landscape. Using the InVEST Habitat Quality (HQ) module and a novel approach to parameterize the relative sensitivity scores in this framework, we quantified, mapped, and evaluated the relative HQ values for these species in the prairies. The results illustrate significant differences in the HQ values between the current range and areas within the historical range of these species that do not spatially intersect with their current spatial extent. However, the variations of HQ values are not statistically significant under the different spatial scenarios considered across the current breeding grounds. Nevertheless, the results within the specific land use/cover categories illustrate meaningful variations in the HQ values across the current range of these species. Our findings suggest that the existing declining trends could only be attributed to the synergistic impact of the considered threats and other factors undermining the essential ecological processes for these birds. The results also highlight the importance of expanding the spatial extent of the existing conservation measures to prevent further loss of these charismatic migratory birds from the prairie landscape. A good starting point is to consider the HQ change index, a measure defined to illustrate the relative habitat degradation under different sources of degradation. Further studies are still required to determine the spatiotemporal impacts of all sources of degradation on the habitat of these endangered species in Canada and across their global range.