2005 | OriginalPaper | Chapter
Markenbewertung: State-of-the-Art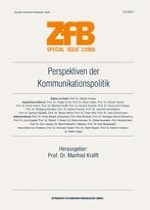 Read first chapter
Author: Prof. Dr. Henrik Sattler
Publisher: Gabler Verlag
Nur wenige Bereiche in der Betriebswirtschaftslehre haben eine so hohe Beachtung gefunden wie das Thema Markenwert. Seit dem Überblicksartikel von Sattler (1995) in dieser Zeitschrift ist von Seiten der Wissenschaft und der Praxis eine dreistellige Zahl an Instrumenten zur Markenwertmessung entwickelt worden.
Aktuelle Entwicklungen, wie z.B. die Neuregelung zur Bilanzierung von Marken oder die Zunahme fast ausschließlich markenmotivierter Unternehmensakquisitionen, wie z.B. die Übernahme von Gillette durch Procter & Gamble für 57 Mrd. € im Jahr 2005 oder Reemtsma durch Imperial Tabacco für 5,8 Mrd. € im Jahr 2002, untermauern die Relevanz der Thematik.
Im vorliegenden Beitrag wird ein Überblick zum State of the Art der Markenbewertung gegeben und zukünftige Forschungsfelder werden herausgearbeitet. Zudem werden Grundelemente der Messung von Markenwerten vorgestellt, u.a. im Hinblick auf die Festlegung von Markenbewertungszwecken, die Formulierung von Anforderungen an die Markenbewertung und die Ermittlung zentraler Markenwertkomponenten.