01-07-2019 | GENERAL PROBLEMS, METHODOLOGY AND PRINCIPLES OF PATTERN RECOGNITION AND IMAGE ANALYSIS | Issue 3/2019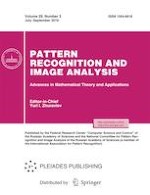 Mathematical Foundations for Processing High Data Volume, Machine Learning, and Artificial Intelligence
Author:

K. V. Rudakov
Important notes
Rudakov Konstantin Vladimirovich
, born in 1954. Educated at Moscow Physical and Technical Institute in 1978. In 1981 he defended his candidate's dissertation "On some classes of recognition algorithms." In 1992 he defended his doctoral dissertation "The theory of universal and local limitations for recognition algorithms" in the Computer Center of the Russian Academy of Sciences. Leading scientist in Federal Research Center "Computer Science and Control," Russian Academy of Sciences. Academician of the Russian Academy of Sciences. Field of scientific interests: pattern recognition, mathematical methods for prediction, algebraic systems, applied algebra. Number of published works is 70.
Translated by Yu. Zikeeva
Abstract
A brief outline of a report made November 12, 2018 at the Scientific Session of the Mathematical Science Branch of the Russian Academy of Sciences is presented in the paper. The report is orientated to an audience far from the problems on data mining. The report is an overview and presents the author's personal considerations on the examined scientific field.