01-11-2019 | IONIZING RADIATION MEASUREMENTS | Issue 5/2019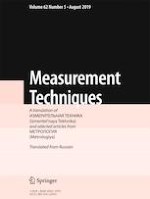 Measurement of the Energy Resolution of Silicon X-Ray Detectors Using Absorption Edge Spectra
Journal:
Authors:

S. M. Osadchii, A. A. Petukhov, V. B. Dunin
Important notes
Translated from Izmeritel'naya Tekhnika, No. 5, pp. 65–68, May, 2019.
A silicon detector with a longitudinal silicon wafer has been developed. x-Ray spectra at the K-absorption edges of Au, Pb, and Bi are used to measure its energy resolution. The results are compared with measurements based on x-rays from a 241Am gamma-ray source. The dependence of the energy resolution of the detector on the noise of a charge-sensitive amplifier and on statistical fluctuations in pair production of carriers in the silicon is calculated.