13-01-2021 | Issue 2/2021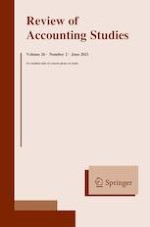 Measuring audit quality
Journal:
Authors:

Shivaram Rajgopal, Suraj Srinivasan, Xin Zheng
Important notes
We appreciate helpful comments from Richard Sloan (editor) and an anonymous referee. We also thank Ed deHaan, Weili Ge, Kathleen Harris, Jayaraman Sudarshan, Russell Lundholm, Bill Mayew, Sarah McVay, Paul Michas, Bryce Schonberger, Dan Simunic, Greg Waymire, Joanna Wu, Jason Xiao, and Jieying Zhang (discussant at MIT Asia conference), and seminar participants at Emory University, University of Rochester, the Foundation for Audit Research Conference, the SESARC symposium, the Audit Midyear Meeting, the MIT Asia Conference, the UBCOW Conference, and the Hawaii Accounting Research Conference. We acknowledge financial assistance from our respective schools. All errors are ours.
Publisher's note
Springer Nature remains neutral with regard to jurisdictional claims in published maps and institutional affiliations.
Abstract
We document 45 specific allegations related to audit deficiencies based on GAAS, as detailed in 141 AAERs and 153 securities class action lawsuits over the violation years 1978–2016. Next, we use these allegations to validate popular proxies of audit quality. Of all the audit quality proxies, we find that restatements consistently predict all of the top six most cited audit deficiencies. The ratio of audit fees to total fees and the presence of a city specialist auditor predict five of the most cited deficiencies. Overall, our results suggest that the predictive power of audit quality proxies depends on (i) the settings that researchers are interested in and (ii) the specific audit deficiencies hypothesized to matter in the investigated setting. For instance, future studies related to auditor independence might consider using restatements and the ratio of audit fees to total fees as proxies of audit quality.