12-06-2019 | Issue 1/2020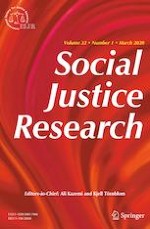 Measuring Neoliberalism: Development and Initial Validation of a Scale of Anti-Neoliberal Attitudes
Journal:
Authors:

Patrick R. Grzanka, Joseph R. Miles, Elliot S. Spengler, James E. Arnett III, Jessica Pruett
Important notes
Publisher's Note
Springer Nature remains neutral with regard to jurisdictional claims in published maps and institutional affiliations.
Abstract
Critics of neoliberalism argue that so-called meritocratic and identity-neutral social policies and political positions actually reinforce and exacerbate intersecting inequalities, namely racism, sexism, heterosexism, classism, and ethnocentrism/xenophobia. The purpose of these studies was to develop and initially validate a scale of neoliberal attitudes from a wide range of existing instruments that reflect anti-neoliberal theory. A series of three studies resulted in a 25-item instrument—the
Anti
-
Neoliberal Attitudes Scale
(
ANAS
)—that exhibits initial evidence of construct validity, internal consistency, and test–retest reliability. Exploratory factor analysis with students from two universities revealed a four-factor structure of
Racism and Sexism Awareness
,
Communitarian Values
,
Multicultural Ideology
, and
Inequality Consciousness
. However, a confirmatory factor analysis with an independent sample of undergraduate students suggests a bifactor model in which the general factor explains most of the variance and that the instrument should be treated as a single scale, rather than independent subscales. Significant correlations with measures of right-wing authoritarianism and social dominance orientation suggest convergent validity. Temporal stability was established via a test–retest analysis in an independent sample of undergraduate students. Finally, responses from a sample of MTurk workers provided evidence of the ANAS's incremental validity when compared to an existing measure of neoliberal beliefs. Implications for future empirical work on the psychological dimensions of neoliberalism are discussed.